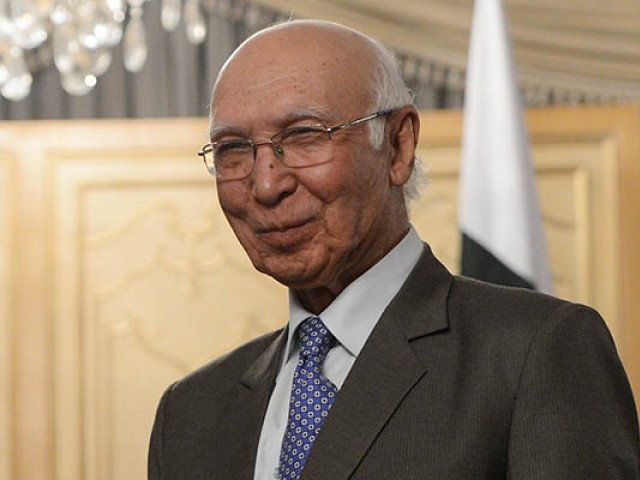 ---
ISLAMABAD: Prime Minister Nawaz Sharif's foreign affairs adviser assured the upper house of parliament on Monday that Pakistan would continue to expose India's hostile designs on the diplomatic front.

During a Senate discussion on "Indian PM Narendra Modi's confession in Bangladesh that India played a role in breaking Pakistan [in 1971]", Sartaj Aziz said the global community had witnessed that "India's tall claims of secularism are untrue in the backdrop of recent events".

Nuclear war between India and Pakistan not as unlikely as you think

Senators from both sides of the aisle suggested that the Pakistani government file a case against Modi in the International Court of Justice (ICJ). In response to the proposal, Aziz said "the [Foreign Office] can examine the legal aspect if we are asked to do so". However, he did not clarify if Pakistan would indeed file a case.




Referring to Modi's 'confession', Aziz told the house that the statement was issued in Bangladesh's capital Dhaka on June 7 and the FO had condemned it while inviting attention of the international community. "On June 11, Pakistan's National Assembly had passed a unanimous resolution against Modi's statement."

The adviser said the issue had since been raised at every available forum, and PM Nawaz had particularly mentioned it in his speech to the United Nations General Assembly on September 30. "We also handed over to them three dossiers on [Indian spy agency] Research & Analysis Wing's involvement in Karachi, Balochistan and the Federally Administered Tribal Areas."

Tactical nukes to counter India's cold start doctrine: Aizaz

Earlier, moving a motion for holding a discussion on the issue, Senator Rehman Malik had said: "Modi's statement is a fit case for the ICJ."

Terming Modi 'chief terrorist', he lamented that the world did not take notice of the statement the way it considered other issues, particularly the September 11 attacks in the United States. "Thousands of people had died [in 1971]. Now Modi has made a confessional statement, yet the US is silent."

Senator Mushahid Hussain Syed said Modi was 'joyous' over Pakistan's breakup. He also said India had sabotaged peace talks with the Afghan Taliban, adding that despite all that, the Western media was showing double standards. He urged the government to expose Modi's 'real face'.

Is India going to hold a carnival to celebrate war against Pakistan? Really, Modi?

Senator Mushahidullah Khan said Modi's statement went against the UN charter, adding that it was strange that "after admitting something that goes against the UN charter, [India] is asking for a permanent seat at the UN Security Council".

However, Senator Saeed Mandokhel said India was not the sole reason for Pakistan's breakup. "We should learn from our mistakes and not repeat them with the provinces."

The senators also praised the Indians who had voted against Modi's Bharatiya Janata Party in the Bihar elections, in which the party was defeated.

Remembering 1971: A retired major tells the story he'd rather forget

Meanwhile, the house passed a resolution to pay tributes to Allama Mohammad Iqbal on his birthday.

Published in The Express Tribune, November 10th, 2015.
COMMENTS (6)
Comments are moderated and generally will be posted if they are on-topic and not abusive.
For more information, please see our Comments FAQ