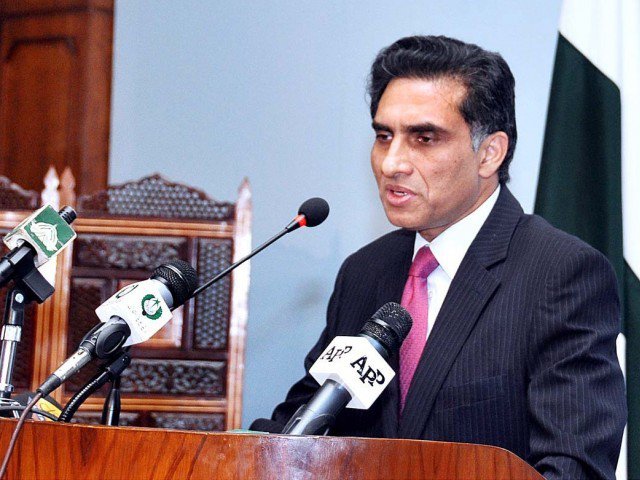 ---
WASHINGTON:



Pakistan has every right to develop tactical nuclear weapons to defend itself in view of the hostile attitude of its nuclear-armed neighbour, Foreign Secretary Aizaz Ahmad Chaudhry said on Tuesday.




In an interview with PTV on Tuesday, he said the country's nuclear programme was not meant for war but for the prevention of war by developing deterrent capabilities.

India, Aizaz said, resorted to forward deployments under its cold start doctrine and Pakistan has every right to develop weapons to defend its sovereignty. "Our nuclear programme is not meant for war but prevention of war," he added.

Report on weapons: 'Pakistan outpacing India in nuclear race'

Amid speculations the prime minister is visiting the United States to talk about a nuclear deal similar to that of Iran, Aizaz said the country would not compromise in any way on its nuclear programme.

To a question, he said the prime minister would reiterate that the use of force was no solution to the Afghan problem. "Durable peace can return to Afghanistan only if there is reconciliation among all [warring] factions and the government." He said Pakistan has been facilitating the reconciliation process and was ready to continue this role.

Earlier speaking to the media in Washington along with Pakistan's Ambassador to the US, Jalil Abbas Jilani, the foreign secretary ruled out the possibility of any 'deal' on nuclear assets, saying the country would never compromise on its national security interests.

Pakistan's nuclear arsenal could become world's third-biggest: report

He also sought America's role to ensure strategic stability in South Asia and to resolve the core issue of Kashmir between Pakistan and India.

"Whenever we talk to the US, we do talk about regional security, and this time as well during the visit of Prime Minister Nawaz Sharif, we will talk about tensions with India vis-a-vis the situation on the Line of Control," he said.

To a question, Aizaz said Pakistan had a clear position on India as it wanted to have good and peaceful ties with all its neighbours. "Premier Nawaz went to New Delhi for this purpose but there was no positive response from India," he said.

No compromise on nuclear assets, says PM

He added that Pakistan's civil and military leaderships were on the same page on external and internal security issues and were taking unanimous decisions. Ambassador Jalil said Pakistan and the US had convergent views on the issue of Pak-India negotiations and were equally concerned on the situation on LoC.


Published in The Express Tribune, October 21st, 2015.
COMMENTS (8)
Comments are moderated and generally will be posted if they are on-topic and not abusive.
For more information, please see our Comments FAQ