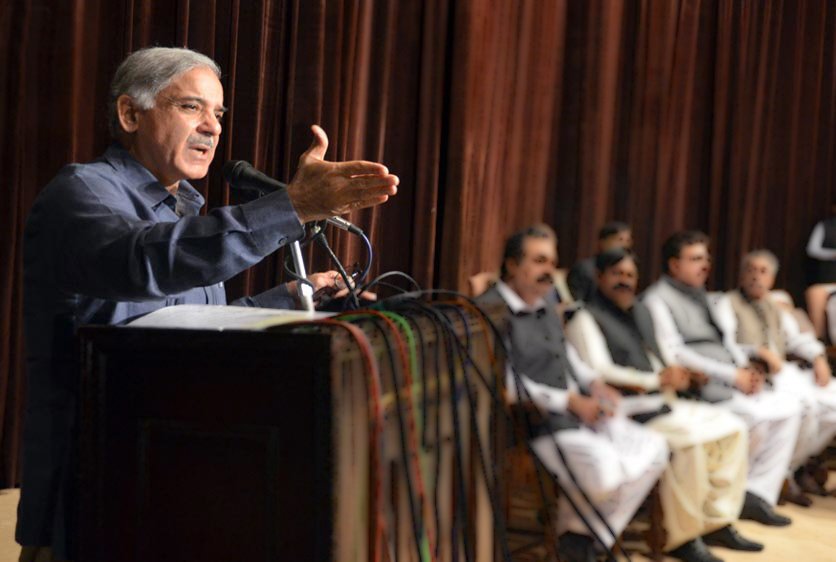 ---
LAHORE: "Extraordinary situations require extraordinary steps," said Chief Minister Shahbaz Sharif on Saturday.

He was presiding over a meeting to review security arrangements and law and order in the province.

Addressing the meeting, Sharif said arrangements for schools' security should be monitored every day. He said committees had been constituted at district and tehsil level for monitoring of security arrangements. He said elected representatives and administrative officers should check security arrangements in educational institutions and submit regular reports.

He said ministers should remain in their constituencies for 10 days to supervise security arrangements.

The chief minister directed the inspector general of police and the Home Department secretary to personally check security arrangements at educational institutions.

Sharif said notices should be issued to the educational institutions that did not complete security arrangements by the deadline set for them.

He said NCC training for students should be restarted.

"The message of tolerance, harmony and peace will be included in schools' syllabus. A committee of experts, elected representatives and prominent Ulema will submit its recommendations in two weeks in this regard," he said.

Legal reforms

The Punjab governor on Thursday promulgated two ordinances – one for security vulnerable establishments and another for keeping a record of tenants and temporary residents in hotels, guest houses and hostels.

According to a statement, the Punjab Security of Vulnerable Establishments Ordinance would provide for establishment of sub-division level security advisory committees by district coordination officers.

Each committee would be headed by a DSP. It would also have a representative of the district government, one officer from the Special Branch of Police and the Counter Terrorism Department, and three representatives of traders and other stakeholders.

The committee would identify and recommend for notification vulnerable establishments, inspect a vulnerable establishment, issue a written advice about the required security arrangements and report to the district police head in case of non-compliance.

The ordinance makes it mandatory for the manager of a vulnerable establishment to make appropriate security arrangements within the time specified in the advice.

The law provides for up to six-month imprisonment and a fine from Rs50,000 to Rs100,000 for its violation. The offence is cognisable and non-bailable.

The Punjab Information of Temporary Residents Ordinance made it mandatory for property dealers, landlords and tenants to inform police about the tenant within 48 hours from the time of the delivery and possession of the rented premises through the fastest means of communication.

The owner or manager (of a hotel, rest house or hostel) is required to inform police about the guest within three hours from the time of his or her arrival or check in.

The law says that a person, not being student or staff of an organisation or institution, shall not stay at a hostel exclusively managed and controlled by it without a prior written permission of the manager. Conveying information about the person's stay to police within three hours of the stay is also mandatory.

Police would be required to maintain a database of such information. The law clarifies that any information received under it would not be used for a purpose other than prevention, detection, investigation and prosecution of offences of terrorism and those under the Pakistan Penal Code (PPC).

The law authorises a police officer to inspect a rented premises, hostel or hotel and get information of the inmates. It makes it obligatory for the landlord, manager and the property dealer to ensure that the tenant or guest does not possess or carry an unlicenced firearm or explosives.

Punishment for violating the law includes up to six-month imprisonment and a fine from Rs10,000 to Rs100,000. The offence is cognisable and non-bailable.

Published in The Express Tribune, January 11th, 2015.