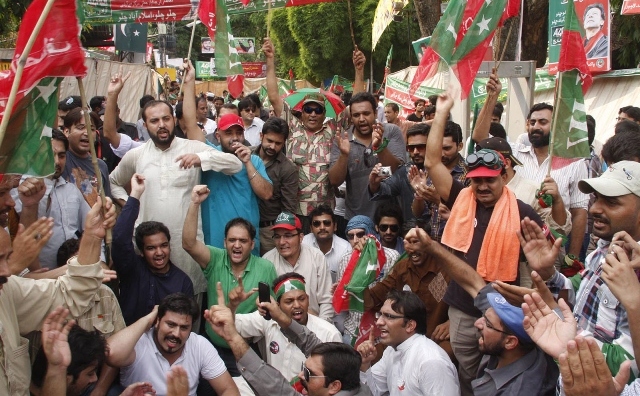 ---
ISLAMABAD: In separate letters addressed to PTI chairman Imran Khan and PAT chief Dr Tahirul Qadri, the Islamabad district administration has said both parties have not been given permission to hold either the 'Azadi' march or the 'inqilab' march in Islamabad, while citing the imposition of Section 144, which bans all public gatherings and rallies.

Below is the text of the letters written by Deputy Commissioner Mujahid Sherdil to Imran and Qadri:

"This is with reference to the open source information regarding rally of PTI (and PAT, in the separate letter) at ICT scheduled for 14th August, 2014. It is intimated that due to precarious security environment, under section 144 CRPC imposed in Islamabad Capital Territory, all public gatherings and rallies are banned. Therefore any public event requires prior coordination and permission for necessary security arrangements and relaxation of section 144 Cr. P.C from the District Magistrate of ICT. So far ICT administration have neither received any request from PTI (and PAT) to hold any public event in ICT nor has such a permission being given under the law."

The deputy commissioner urged PTI and PAT to provide input since it  is essential for the ICT administration to ensure effective arrangements for the safety of residents of the ICT and the participants of the rally. "Furthermore considering the expected inflow of participants of the rally into ICT, it is imperative for the ICT administration to ensure timely arrangements for traffic and security of public and private property, peace and tranquilly of the masses at large as well as participants of any event," said the letter.

"Without prejudice to the ICT's decision regarding relaxation of Section 144 Cr. P.C presently invoked in ICT by the District Magistrate, you are requested to direct your party to interact with the ICT administration so that the very serious and fragile security situation (particularly with reference to ongoing Zarb-e-Azb operation) should be thoroughly thrashed out. Needless to say that ensuring and safeguarding public life and property is obligatory not only on the administration but also all responsible political parties and law abiding citizens of Pakistan."

The decision to impose Section 144 came as the capital braces for protest marches led by Imran Khan and Qadri who have vowed to topple the government of Prime Minister Nawaz Sharif.

The two plan to march on August 14 accompanied by tens of thousands of supporters. Both protest rallies will be held on Thursday when the country celebrates its independence day.
COMMENTS (39)
Comments are moderated and generally will be posted if they are on-topic and not abusive.
For more information, please see our Comments FAQ