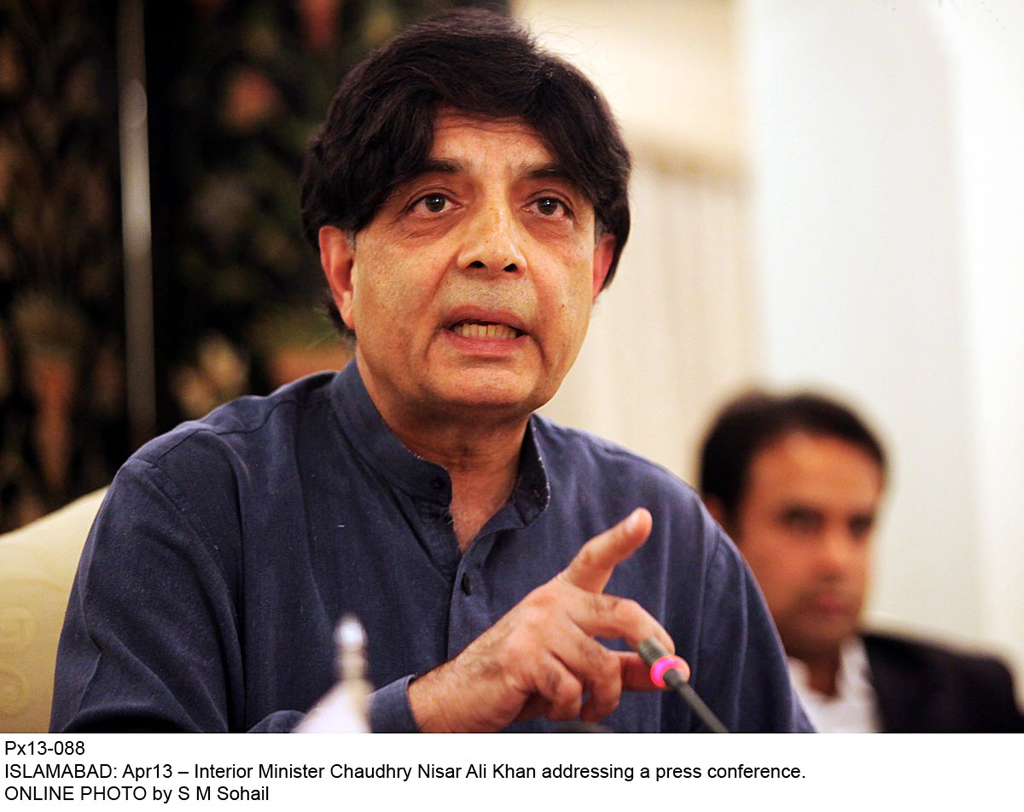 ---
LAHORE:



The province of Punjab has been practically handed over to Interior Minister Chaudhry Nisar Ali Khan, who will deal with both Dr Tahirul Qadri's Martyrs' Day on August 10 and Imran Khan's Azadi March on August 14, The Express Tribune has learnt.




Punjab Chief Minister Shahbaz Sharif has asked his staff, Punjab chief secretary and Inspector General of Police (IGP) Mushtaq Sukhera to obey Chaudhry Nisar as chief executive of the province till August 14.

After taking the driving seat, Chaudhry Nisar has directed authorities to arrest Pakistan Awami Tehreek (PAT) chief Dr Tahirul Qadri and to restrict PAT workers from across Punjab to their own districts.

According to sources, Chaudhry Nisar issued these instructions in two separate meetings held after his arrival in Lahore on Friday.

In the first meeting – in which commissioners and regional police officers (RPOs) of seven divisions of the Punjab as well as top bureaucrats including the IGP took part – the interior minister warned officials they would face severe punishment if the PAT convoys succeeded in reaching Lahore.

Later he called a meeting of heads of Lahore police, district coordination officers (DCOs) and commissioner and ordered them to arrest Qadri from his residence.

The sources said the police informed Nisar that there were around 200 female followers of Dr Qadri in front and on top of his house. They said these female workers, who had gathered there the previous night, had started to get exhausted. Nisar instructed them to arrest Qadri on Friday night, or in the nights of upcoming days.

Nisar along with senior PML-N members also held a meeting with CM Shahbaz Sharif. The sources said Nisar told the participants that they had got input from all political parties in and outside parliament and they were on the same page regarding the way to tackle Dr Qadri.

According to sources, the PML-N leadership has also decided to give a tough time to Pakistan Muslim League-Quaid (PML-Q) President Chaudhry Shujaat Hussain and Chaudhry Pervez Elahi.

At first stage their security is withdrawn and they have been asked to move at their own risk. Nisar and Shahbaz have also directed the DPOs of Gujrat and Mandi Bahauddin as well as commissioner Gujranwala to turn screws on Chaudhrys' loyalists and restrict them in their native constituencies.

Nisar on Friday night flew back to Islamabad, where he will attend National Security Conference on operation Zarb-e-Azb and will come back to Lahore on Saturday evening.

Talking with The Express Tribune, Provincial Minister for Anti-Terrorism Colonel Shuja Khanzada confirmed the presence of Chuadhry Nisar in Punjab. He said Nisar presided over law and order meeting of the province and called on Punjab Chief Minister Shahbaz Sharif.

"Nisar apprised senior leadership that all political parties are on board vis-à-vis restraining Dr Qadri and taking action against him," he said, adding that police had been issued order to arrest Qadri. He said so far the situation was under control and Dr Qadri issue would be tackled till August 10.

He, however, pleaded ignorance as to Chaudhry Nisar's role as Punjab's chief executive and said the interior minister had presided over a meeting on law and order as per routine. "Chaudhry Nisar usually presides over meeting in Punjab province as the senior leader in the party," he said.

It is pertinent to mention that it was Chuadhry Nisar and Shahbaz Sharif, who tackled the situation that emerged after Dr Qadri's arrival to Pakistan on June 22. Dr Qadri had not been allowed to land in Islamabad and his plane had been diverted to Lahore.

Published in The Express Tribune, August 9th,2014.
COMMENTS (8)
Comments are moderated and generally will be posted if they are on-topic and not abusive.
For more information, please see our Comments FAQ