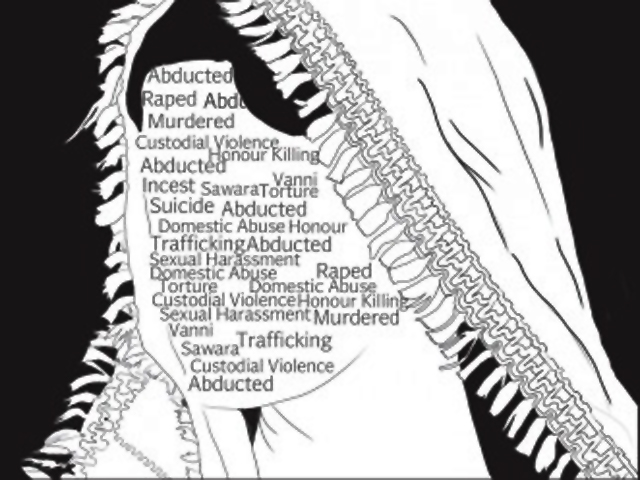 ---
LAHORE:



As many as 17 women a day reported having been the target of gender related violence between July and September, 2013, Aurat Foundation Resident Director Nasreen Zehra said, quoting figures from Aurat Foundation's quarterly report on violence against women in the Punjab.




Of the 17 women, seven were abducted, three raped and four were murdered, including one killed for 'honour'.

"The situation of women in the Punjab is deplorable," said Zehra.

According to the report, there were 1,650 cases of gender based violence in July and September. They included 477 cases of abduction, 347 murder cases (including 85 killed for 'honour'), 250 cases of rape, 165 suicides, 37 incidents of domestic violence, 10 cases of burning, eight acid attacks and two cases of sexual assault.

As many as 1,850 persons were targeted in the 1,650 cases- 1,752 of them women.




The government must take solid steps and make the required procedural changes to ensure speedy justice, Zehra said.

Women were abducted from almost all districts in the Punjab, except for Narowal and Hafizabad.

The report suggests that the type of violence the women were subjected to varied across socioeconomic class and age brackets. The more educated women were subject to more emotional and psychological abuse than women from rural, feudal or tribal backgrounds. Women from the lower income bracket were subjected to more physical abuse.

According to the report, 56 per cent of the incidents were reported from rural Punjab, 38 per cent from urban centres and around six per cent from small towns. The report suggested that women from rural areas were more vulnerable than their counterparts in urban centres and towns.

The number of rape complaints in rural centres was double the figure for urban centres. Furthermore, 62 per cent of incidents of honour killing occurred in rural areas.

The authors said that most of the cases probably went unreported.

There were many cases in which the police did not register a complaint. The report welcomed notice of such incidents by High Courts and the government but pointed out that this showed that the relevant department were not doing their job.

Aurat Foundation Programme Officer Abid Ali said, "We came across several cases in which the departments had misreported the offence. Even after the registration of an FIR most victims were pressured to reconcile and withdraw the case or face severe consequences...even death threats."

The report stated that in this quarter registration of FIRs was quite satisfactory; 79 per cent of cases were registered in police stations, three per cent were not registered while the status was unknown in 18 per cent cases.

According to the report, 47 per cent of the victims were unmarried women and girls. 37 per cent of them were married, one per cent divorced and one per cent widowed. The marital status of 13 per cent of the women could not be determined.

The report stated that among the urban centres, the highest number of incidents of violence were reported from Faisalabad (243), followed by Lahore (202) and Rawalpindi (136).

Most of the women had been subject to violence over domestic disputes (259 cases).  As many as 91 women were murdered over domestic disputes.

Skirkat Gah Advocacy and Communications Director Fauzia Viqar said domestic violence was an invisible crime in that it was rarely reported till it bordered on extreme. The notion of "sanctity of privacy" had stigmatised open discussions of domestic violence.

Viqar said the matter required a law that criminalised acts of domestic violence, otherwise considered quite normal in Pakistani society. She said redress for victims of domestic violence in civil courts and criminal courts were also limited.

Irfan Mufti, of the SAP-PK, said violence against women took place in their families, communities and the society. The latter two forms were kept in check to some extent but violence within households are rarely reported, he said.

He said there had been several reported cases in which the men of the family had subjected their women to violence and had their elders' approval to do so.

"We need to understand that all forms of violence are crimes. They not only damage the victims but also their dignity," said Mufti.

Published in The Express Tribune, December 10th, 2013.
COMMENTS
Comments are moderated and generally will be posted if they are on-topic and not abusive.
For more information, please see our Comments FAQ