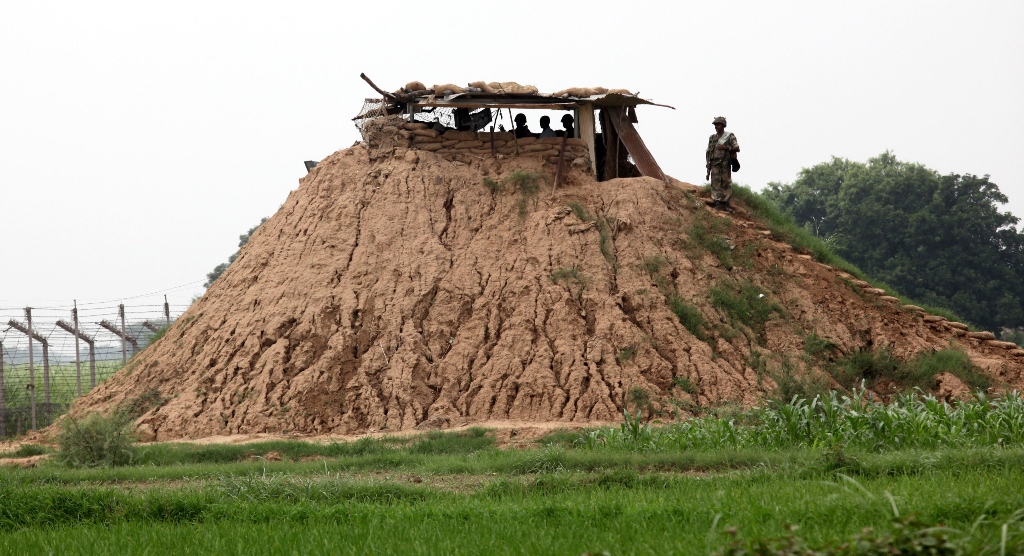 ---
Pakistan accused the Indian army of violating the Line of Control (LoC) in Sialkot again on Wednesday. 

Unprovoked firing and shelling allegedly occurred in the Chaprar and Charwah sectors displacing many people from their homes, Express News reported.

India meanwhile claimed that a paramilitary soldier was killed while three other others were injured in firing last night, BBC News reported. The firing had continued till Wednesday morning.

Indian Home Minister Sushil Kumar Shinde said villagers were fleeing their homes because of repeated firing from Pakistan.

This is the latest in the ongoing violations of the Line of Control (LoC) between India and Pakistan where both countries claim the other was responsible for the attack.

Earlier violations "by Pakistan"

India has reported multiple incidents of alleged LoC violations being carried out by Pakistan.

BBC News reported that since the start of 2013, India has accused Pakistan of nearly 200 LoC violations. India had said that Pakistani troops fired at over 50 locations along the border in Kashmir.

The Indian army said that they had fought gun battles against "30 to 40 Pakistan-backed militants" earlier this month when they tried to infiltrate India.

Eight of the militants who had attempted to enter the Keran area were killed in clashes over the last two weeks, according to sources.

Pakistan had dismissed these claims, calling them "baseless".

There had been almost 50 instances of firing in the RS Pura and Pargawal sectors in Jammu according to authorities.

Violations "by India"

Unprovoked Indian firing in the Sialkot sector on Monday had allegedly injured eight civilians in Pakistan.

On October 19, a Pakistani military official said a civilian was killed and two others were injured in the same region.

Pakistan accused India of killing a Punjab Rangers' official on October 17 in Sialkot's Chaprar sector.

On October 15, Indian troops had opened shelling from across the LoC, injuring a woman. The Indian shelling had hit the civilian population of Datoot village of Nakyal Tehsil of Kotli.

On October 11, Indian troops had fired mortars across the LoC, killing a child and wounding three other people.

Four people were injured because of Indian shelling on the Line of Control on October 4 in the Kotli area.

Furthermore, on September 2 the Indian Army had carried out unprovoked shelling in the Nakyal sector leaving numerous children stranded inside a local school.

On August 27, at least five people, including two women and a girl, were injured by heavy shelling and unprovoked firing in the same area. The continuous shelling and bombardment across the LoC had forced the natives to flee.

Moreover, on August 26 unprovoked firing from the Indian Army had injured six civilians.

Pakistani authorities, on August 25, had accused the Indian army of cross-border shelling that killed two women and wounded seven other civilians in the disputed Himalayan region of Kashmir.

On August 24, the Indian army allegedly violated ceasefire in the Nakyal sector, by firing across the border and killing one Pakistani soldier besides injuring a woman.

Since the beginning of the year, Delhi and Islamabad have regularly accused each other of violating the ceasefire.

In September, Prime Minister Nawaz Sharif and Indian Prime Minister Manmohan Singh met in New York and agreed to maintain peace on the border but their pledge seems to have made little difference according to correspondents.

On Tuesday, Nawaz, while on a trip to the US, vowed to go the "extra mile" to make peace with India. He said that through dialogue, the two countries can resolve all issues including Kashmir.