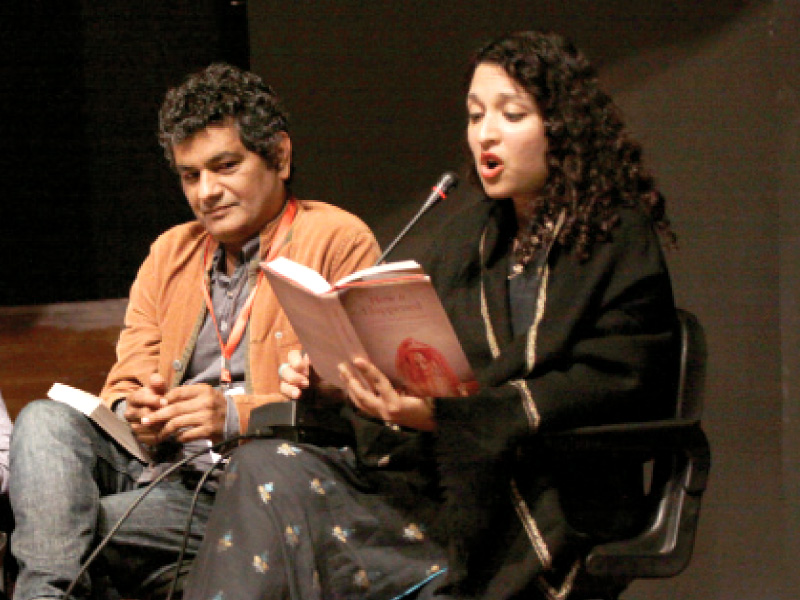 ---
LAHORE:



"Pakistan is a post satirical society. Make any kind of stuff and people here will actually buy it", said author of A Case of Exploding Mangoes Mohammed Hanif during a session on satire, moderated by William Dalrymple.




Talking about his first book, Hanif said "You see all I wanted to do was write a murder mystery with some dirty jokes."

He said surprisingly there were some readers who actually thought all that he wrote was true.

Narrating an incident, Hanif said a former intelligence officer who happened to have read his book was actually quite amazed by his 'information gathering' skills.

"He took me to a corner at a party and said 'My dear son, you have written a great book. Now tell me your source'", said Hanif, leaving the audience in fits of laughter.

"I am a satirist. I hope to make people laugh and then hope they will take back something from it", said writer Moni Mohsin, the author of The Diary of A Social Butterfly and Tender Hooks.

"Are there any social butterflies reading about your social butterfly?" asked Darymple to which Mohsin replied in the negative.




"Satire is always read like a story about someone else, not you," she said. Mohsin said that just because satire is funny does not mean it is not serious. "I write serious stuff. Satire is serious", she said.

The writers read excerpts from their books during the session to an enthusiastic applause. The youngest writer on the panel, Shazaf Fatima said 'it's intimidating' when she is compared to Jane Austen.

Fatima recently wrote her debut novel How It Happened – a story of arranged marriages in a Shia Syed family.

"The family in question has been doing things in a particular way for generations," Fatima said. "Humour helps us realise how ridiculous and silly certain issues are," said Fatima. "For me satire is like a sugarcoated pill which hopefully, once the humour settles in, will create a will to learn", she said.

Published in The Express Tribune, February 24th, 2013.

Correction: In an earlier version of this story, Shazaf Fatima was incorrectly mentioned as Moni Mohsin in the photo caption. Also, the quote in the headline was earlier mistakenly attributed to Mohammad Hanif. The errors have been rectified.