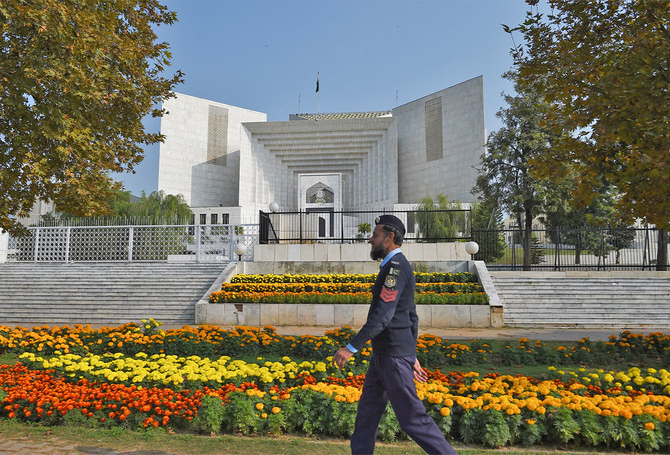 ---
ISLAMABAD:
Chief Justice of Pakistan Umar Ata Bandial has finally proposed the names of Islamabad High Court CJ Athar Minallah and three junior judges of the high courts for their elevation to the Supreme Court.
The chief justice has summoned a meeting of the Judicial Commission of Pakistan (JCP) on Monday to consider the four nominees -- IHC CJ Athar Minallah; Lahore High Court judge Justice Shahid Waheed; and two Sindh High Court judges Justice Syed Hasan Azhar Rizvi and Justice Shafi Siddiqui.
The CJP has nominated four high court judges despite the fact that there were five vacant seats of the apex court.
Justice Shahid Waheed is the fourth senior-most judge of the LHC.
Justice Syed Hasan Azhar Rizvi is fourth and Justice Shafi Siddiqui is sixth on the SHC judges' seniority list.
Since February this year, no SC judge has been appointed. CJP Bandial had summoned a meeting of the JCP on July 28 to consider his five nominees, but a consensus could not evolved among the body's members.
Once again, three senior SHC judges have been overlooked for their elevation to the SC.
This has happened for the third time in the last five years.
A representative of the Sindh High Court Bar Association (SHCBA) expressed serious concerns over the ignoring of the three senior SHC judges about their appointment to the SC.
He said even one member of the JCP, Justice (retd) Sarmad Jalal Osmani, had questioned why the name of SHC senior judge Justice Aqeel Abbasi was not considered for elevation.
The SHCBA representative expected that Justice Qazi Faez Isa, Justice Sardar Tariq Masood and Pakistan Bar Council (PBC) representative Akhtar Hussain would not support the nomination of junior high court judges.
These three JCP members are consistently supporting the elevation of the judges to the SC on the seniority principle.
However, sources revealed that both government representative, the Attorney General for Pakistan (AGP) and law minister, might support the CJP's nominees to end the deadlock on SC judges' appointments, which is adversely affecting the functioning of the judiciary.
In case of elevation to the SC, Justice Shahid Waheed would become the CJP after the retirement of Justice Ayesha Malik.
COMMENTS
Comments are moderated and generally will be posted if they are on-topic and not abusive.
For more information, please see our Comments FAQ