 ---
Secretary-General of the Muslim World League Dr Mohammad bin Abdulkarim AI-Issa has said that Pakistan has a "significant place in the Muslim world", a statement issued by the Inter-Services Public Relations (ISPR) said.
"Pakistan is playing a vital role for peace and stability in the region," said Dr AI-Issa who is also president of the Organisation of Muslim Scholars, Saudi Arabia, during a meeting with Chief of Army Staff (COAS) General Qamar Javed Bajwa at the General Headquarters in Rawalpindi on Tuesday.
During the meeting, the ISPR said, matters of mutual interest, bilateral security cooperation and regional peace and stability came under discussion.
The army chief said the relations between Pakistan and Saudi Arabia are "based on bonds of brotherhood and mutual trust".
"Both nations will continue to play a part for peace and stability and betterment of Ummah," Gen Qamar was quoted as saying by the ISPR.
On Monday, President Dr Arif Alvi on Monday conferred Hilal-e-Pakistan on Dr Muhammad bin Abdul Karim Al-Issa in recognition of his services to Pakistan in different fields at a special investiture ceremony in Islamabad at Aiwan-e-Sadr.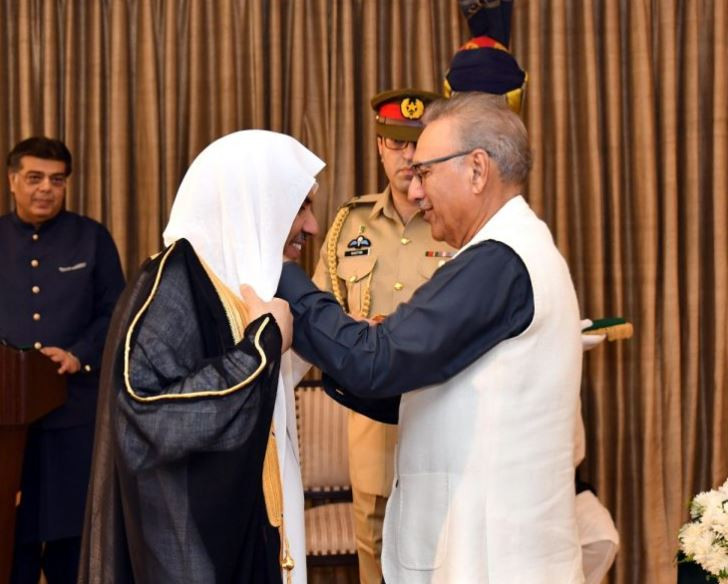 The award was conferred in recognition of his services in strengthening the brotherly relations between Pakistan and Saudi Arabia; for being an instrument for the award of scholarships to Pakistani students in educational institutions and higher learning in Saudi Arabia; for pursuing and safeguarding the rights of Pakistani expatriates in the Kingdom; for promoting peace and harmony by holding conferences, seminars and dialogues within the Muslim societies and also with rest of the world with the objective to create harmony and unity in the Islamic world, and showcasing a peaceful harmonious and tolerant picture of Muslims in the world.
Read more: Umrah pilgrims can now stay in Saudi Arabia for three months
Later, Dr Muhammad bin Abdul Karim Al-Issa and his delegation called upon the president. Minister for Religious Affairs and Interfaith Harmony Mufti Abdul Shakoor, Ambassador of the Kingdom of Saudi Arabia Nawaf bin Saeed Al Malki also attended the meeting.
Read more: Umrah pilgrims can now stay in Saudi Arabia for three months
Talking to the secretary-general, the president termed "Islamophobia" one of the biggest challenges being faced by Muslims, and urged the need to allay the fears of the world regarding Islam.
He said that Islam advocated for peace, solidarity and harmony among the people of the world, and people from different nations needed to be educated about the true message of Islam.
COMMENTS
Comments are moderated and generally will be posted if they are on-topic and not abusive.
For more information, please see our Comments FAQ