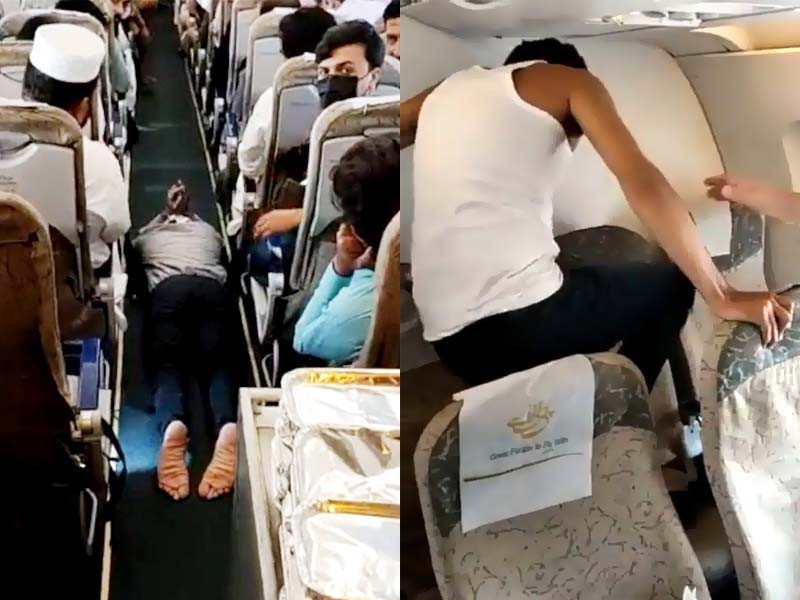 ---
In a truly bizarre turn of events, a passenger aboard Pakistan International Airlines (PIA) flight 283 caused a ruckus, trying to kick one of the windows in the aircraft as it was enroute to Dubai from Peshawar.
Airline staff tried their best to suppress the manic episode. The boisterous passenger named Osama Abdullah started to act strangely after take-off. In videos that were shared online, an aircraft staff member can be seen helping Osama up as he lay on his stomach in the plane's aisle.
After successfully coaxing the passenger back to his seat, the staff member turned the camera to face the troubled passenger. "He was fine before take-off, but after take-off he started acting strangely. He has been disturbing other passengers; sometimes he calls out the Azaan (call to prayer), sometimes he lies down on the aisle and he has taken out all of his possessions," said one of the flight crew.
In a second video, the same passenger can be seen without his shirt while standing in the aisle in his vest. The exasperated staff members detained Osama once the plane had landed and all other passengers had disembarked.
Gesturing to the window seat, the staff members tried to get him to sit down. In response, Osama kicked the window. The staff act swiftly and stop him and according to aviation security, they had tied Osama's hands and feet to the seat. The flight captain then contacted Dubai Air Traffic Control and asked them to call security. The passenger was arrested as soon as the plane landed.
PIA has confirmed that the unprecedented incident took place on September 14 and that the individual in question has been blacklisted for future travel. It was also revealed that the passenger was detained by security officials at Dubai Airport and was deported later.
Social media users have questioned the passenger's mental state, some claiming his chaotic outburst may have stemmed from psychological issues, while other speculate drug use.
Journalist Javeria Siddique questioned whether the individual was suffering from an anxiety attack or if he was under the influence of drugs.
Another social media user suggested that the individual was experiencing some form of mental breakdown.
COMMENTS
Comments are moderated and generally will be posted if they are on-topic and not abusive.
For more information, please see our Comments FAQ