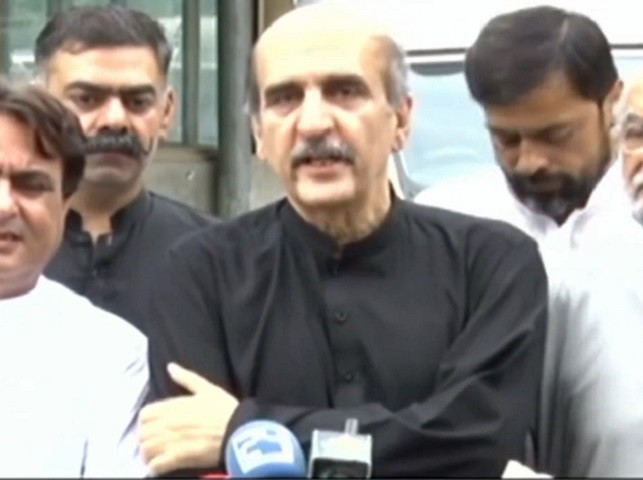 ---
ISLAMABAD':
Akbar S Babar filed a petition in the Islamabad High Court (IHC) on Wednesday to be made a party to an appeal filed by the Pakistan Tehreek-e-Insaf (PTI) against the Election Commission of Pakistan's (ECP) verdict in the prohibited funding case.
Babar, an estranged but founding member of the party, had filed the case on November 14, 2014, after he had developed differences with the PTI chief over internal corruption and abuse of laws governing political funding.
The petitioner had alleged that nearly $3 million in illegal foreign funds were collected through two offshore companies, registered under party chief Imran Khan's signature, and that the money was sent through illegal 'hundi' channels from the Middle East to the accounts of PTI employees.
He had also alleged that the foreign accounts used to collect funds were concealed from the annual audit reports submitted to the electoral watchdog.
Earlier this month, the ECP had ruled that the PTI did indeed receive illegal funding while issuing a notice to the party asking why the funds should not be confiscated; which was later challenged in the IHC by the party.
A three-member larger bench of the IHC is set to hear the PTI's appeal tomorrow [Thursday].
Read The outsider: how race and politics spelled the end for Abraaj
Speaking to the media outside the high court today, Akbar S Babar said that he believed he "should be made a party to the case where ECP's verdict has been challenged" and claimed that "various attempts were made [by the PTI] to expel us".
"Illegal fund-raising has been declared illegal," he said, claiming that "it is the biggest funding scam in the history of Pakistan" and PTI "leaders are involved in the scam".
Citing a report published by the Financial Times, Babar said that it "proved that the dollars came from [the] Abraaj [group]". The Dubai-based group reportedly raised funds for the PTI under the pretense of unspecified "philanthropic causes".
Babar also said that "this case will change the politics of Pakistan, the decisions that will come in the coming days will open the eyes of the nation."
Earlier this month, the Federal Investigation Agency (FIA) formed a five-member special monitoring team, expanding the scope of inquiry into the prohibited funding case against the former ruling party to the entire country.
The PTI had also moved the court against the FIA for taking action following the ECP's verdict in the prohibited funding case. However, the IHC had disposed of the petition.
COMMENTS
Comments are moderated and generally will be posted if they are on-topic and not abusive.
For more information, please see our Comments FAQ