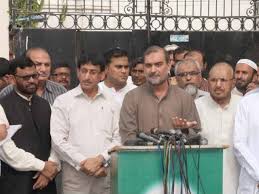 ---
KARACHI:
The Jamaat-e-Islami (JI) Karachi chief, Engr Hafiz Naeem ur Rehman announced that the party will hold Independence Day celebrations at over 250 spots in the city.
Naeem ur Rehman announced this at a press conference held at Idara Noor-e-Haq on Saturday.
He said that the JI will deliver a message of hope for the future of Pakistan through the celebrations.
He said that our forefathers gave sacrifices to establish the Islamic Republic of Pakistan but unfortunately a bunch of slaves to foreign powers have been ruling the country for a long period.
Pakistan would not be able to progress without toppling down the slave mentality of the government officers, he said.
The JI leader further said that the nation will have to get rid of feudal lords and capitalists to enjoy absolute freedom and sovereignty.
He said that almost all poor people in the country pay taxes against the majority of the elite class that dodge taxation.
He announced launching of a new phase of campaign against K-Electric (KE) after August 14. He said that the back-to-back ruling regimes in the country support KE despite all its corrupt practices. He said that the federal government provides gas to the controversial private company without any contract.
He questioned the excessive billing even though the government provides 1,000 MW of electricity to the company free of cost.
He said that the NEPRA and the government have made an evil nexus to plunder the national resources. He reiterated his demand to cancel the licence of the KE for violating the agreement with the state to the bankruptcy of the parent company.
The JI leader also raised the issue of local bodies' polls and demanded of the government to reprint ballot papers in different colours to ensure transparency in the electoral process. He demanded of the government to take emergency measures to handle the situation in Karachi after the rains.
Published in The Express Tribune, August 14th, 2022.
COMMENTS
Comments are moderated and generally will be posted if they are on-topic and not abusive.
For more information, please see our Comments FAQ