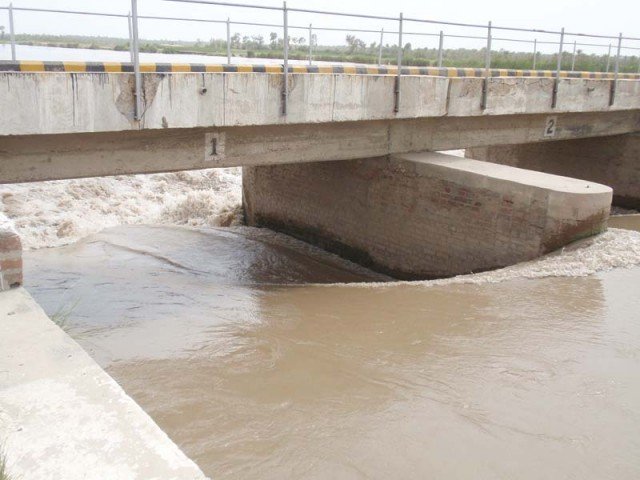 ---
HYDERABAD:
The province's first Combined Effluent Treatment Plant (CEPT), built at the cost of around Rs1 billion in Kotri SITE Area Jamshoro district, continues to release untreated industrial wastewater in the KB Feeder canal, which supplies water to Karachi.
A team from Sindh Environment Protection Agency (SEPA) visited the plant on Friday and gave a month to the Kotri Association of Trade and Industry (KATI) to ensure compliance with the Sindh Environment Quality Standards (SEQs).
SEPA Hyderabad region in-charge Imran Abbassi told The Express Tribune, that SEPA has also asked KATI to conduct a capacity audit of the plant to rule out the doubts that CEPT could not treat the quantum of effluent that it received from the SITE's industries.
The visit was carried out after SEPA Hyderabad's reports of the last five to six months showed that the SEQs are not being followed and contaminated water is being released into the canal, which is a water and irrigation source for Karachi and Thatta. The reports were forwarded to the Sindh chief secretary, who directed SEPA officials to visit the plant and ensure compliance.
"The Chemical Oxygen Demand (COD), Biochemical Oxygen Demand (BOD), sulphate, nitrate and other parameters were found beyond the permissible limits in the samples collected over the last five to six months," Abbassi told. He said that the office bearers of KATI, with whom the officers of SEPA met at the association's office, kept arguing that the plant is functioning properly.
He recalled that SEPA some months ago had sealed 11 industries for the emissions. As per the Sindh Environment Protection Act, 2014, all the industrial units, which release effluents are under obligation to install in-house treatment systems. Abbassi said that from next week all the industries will be once again issued notices for the installation of the treatment plants.
The FIR was lodged on the complaint of the state by the circle officers Inayat Ali Qureshi. 11 persons were nominated in the case under sections 409, 420, 467, 468, 477-A, 218 and 34 of the Pakistan Penal Code (PPC).
According to the FIR registered by Anti-Corruption Establishment in Jamshoro district on April 2, 2019, the plant was built on the Sindh High Court Hyderabad circuit bench's order in a 2007 petition filed by a resident of Kotri. Its PC-1 was approved in April 2010, at the cost of Rs667 million but it was revised to Rs966.65 million without approval.
An agreement was signed by the chief engineer SITE Abdul Waheed Shaikh with M/S ARA Joint Venture of Vohra in June 2010, which allowed the increase of the cost to Rs966.95 million. "During the inquiry, it was found that there is no benefit of the project and it is still incomplete and non-functional," said the FIR.
Published in The Express Tribune, August 8th, 2022.
COMMENTS
Comments are moderated and generally will be posted if they are on-topic and not abusive.
For more information, please see our Comments FAQ