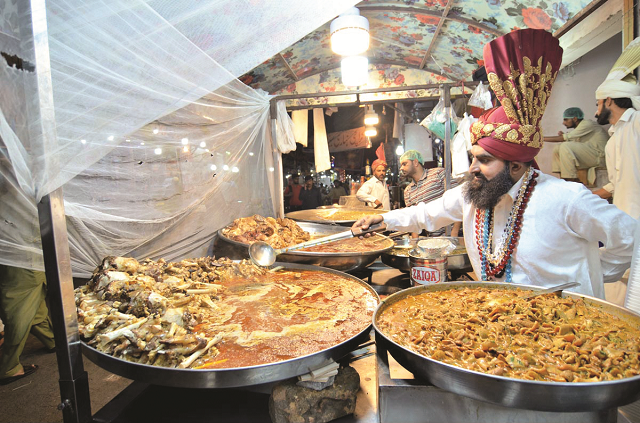 ---
RAWALPINDI:
A large number of people throng Rawalpindi's Kartarpura Food Street, which offer a variety of foods under special Ramazan deals, during sehri.
The food street is a place for foodies, especially for those who enjoy sri paye, bong, nali nahari, beef nahari, chicken chaney, anda channa, harisa, halwa puri, punjabi khoya qulfi, makhan paarey, fresh milk and yoghurt, lassi and fresh naan.
Traditional beverages such as lassi and sherbet are also available on the sidewalks.
Stallholder Jahanzeb Arain, who hailed from Gujranwala and sells famous sri paye of Gujranwala for customers, said: "The people of Rawalpindi can now find all favourite and traditional food of Lahore, Gujranwala, Multan, Gujarat, and Lala Musa in Kartarpura Food Street."
He said: "There the food street usually remains flooded with customers on normal days, but during Ramazan, rush here increases exponentially, and people start coming at midnight to sit, eat and enjoy the food."
"There are two main reasons people come here. The taste of dishes and the reasonable rates. For just Rs1000, two to three people can have an excellent meal," he said.
Imam-ul-Haq, a local, said, "My friends and I make sehri in Kartarpura Food Street every year. The food here is delicious. The food is not too heavy for a fasting person and instead helps provide energy."
Haq said that Kartarpura Food Street is very popular among the residents of Rawalpindi, but there is a lack of facilities there with constant traffic jams every day. Lack of parking facility for cars and motorcycles is a nuisance to visitors, he said adding that many professional beggars also roam in the street, which pestered customers.
He said that the local administration should make arrangements for parking and traffic wardens should be deployed to regulate traffic so that customers could enjoy the food and the environment here with a piece of mind.
"We have introduced iftar and sehri packages at affordable prices so that people can enjoy the food," said another restaurateur.
Published in The Express Tribune, April 11th, 2022.
COMMENTS
Comments are moderated and generally will be posted if they are on-topic and not abusive.
For more information, please see our Comments FAQ