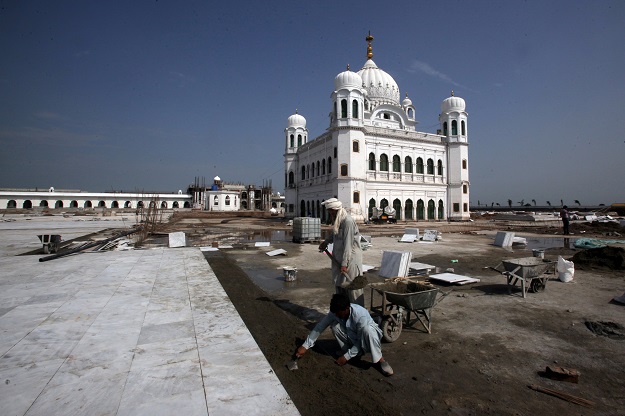 ---
LAHORE:
Neighboring India has left no stone unturned in exposing its lack of commitment to its constitutional commitment of religious freedom and the government's stubbornness in allowing its Sikh population to use the Kartarpur Corridor is further proof.
Since its inauguration ceremony nearly 2 years ago, the visa-free border crossing has mostly remained closed owing to Covid-related travel restrictions. However, even when the Pakistani government has shown leniency, to allow Sikhs from across the border to visit the Gurdwara Darbar Sahib using the corridor, the Narendra Modi administration has not reciprocated it. Most recently, on the death anniversary of Guru Nanak arrangements were made for Sikhs who wanted to attend the three-day rituals taking place at Kartarpur but Pakistan's counterpart kept mum on if they would open their side of the corridor.
Now with the birth anniversary celebrations of Sikhism's founder on the horizon, Guru Nanak's devotees residing in India see no hope of being able to attend and pay their respects which forms an integral part of their religion. Sardar Jinderpal Singh, who resides in Amritsar, a city in Indian Punjab, told the Express Tribune that he has been trying for months to come to Pakistan to just get a glimpse of the Gurdwara but he has been consistently shunned.
"I contact the Shiromani Committee and the immigration officials of Kartarpur Corridor regularly to inquire about the reopening. Not soon, is all I get in reply," Jinderpal informed over a telephonic interview.
Purposefully curtailing Sikhs like Jinderpal from performing their religious rites ties into the Modi administration's conservative agenda of making India a Hindu state, a fact which weighs heavily on the community. "We got access to our holy site after 72 years of prayers and now the Indian government is actively avoiding its responsibility of opening the corridor when it has relaxed every other superspreader related restriction," an irate Rajinder Singh Ruby said. Rajinder, who is the manager of the Golden Temple, a Sikh holy site in Amritsar, is amongst a significant number of people who believe that India is ruining a symbol of peace by rejecting Pakistan's consistent attempts at accommodating Sikhs to perform their religious obligations.
These beliefs do not come as a surprise owing to the Bharatiya Janata Party's (BJP) stance of isolating Pakistan whether it is through targeted disinformation campaigns or malignment at international forums vis-a-vis Kashmir.
Read Sikhs for Justice releases new map of Khalistan
Sardar Amar Singh, Head of the Pakistan Sikh Gurdwara Prabandhak Committee, who is also overseeing the arrangements for the birth anniversary, while talking to the Express Tribune said, "our government has reopened the corridor before as well but it seems like our Indian counterparts are bent on not letting us reunite with our families across the border." This hostile attitude by the far-right government against its Sikh population was first seen at the infamous farmer's protest held in India earlier during the year in which aided by its supporters Sikhs were demonised and labeled as separatists working for Pakistan.
Despite being pitted against their countrymen by their own ruling administration's nationalist ideology, Sikhs like Ramesh Singh are hopeful of a miracle. "I pray daily that the Modi administration listens to our pleas and reopens the corridor so that my wife and I can fulfill our lifelong wish of visiting the holy land that Guru once used to walk on," Ramesh told the Express Tribune.
Separate arrangements
While the Pakistani government might not be able to fulfill Ramesh's wishes for the corridor being open from the Indian side, it has made separate arrangements to ensure that at least some Sikhs can still be a part of the celebrations.
The government will issue 10-day visas for up to 3,000 pilgrims from across the globe including those across the border. Sikhs from India will be allowed to enter through the Wagah border and will then be taken to the Nankana Sahib. After attending the main function on November 19, pilgrims will be given tours to other Gurduwaras across the country.
COMMENTS
Comments are moderated and generally will be posted if they are on-topic and not abusive.
For more information, please see our Comments FAQ