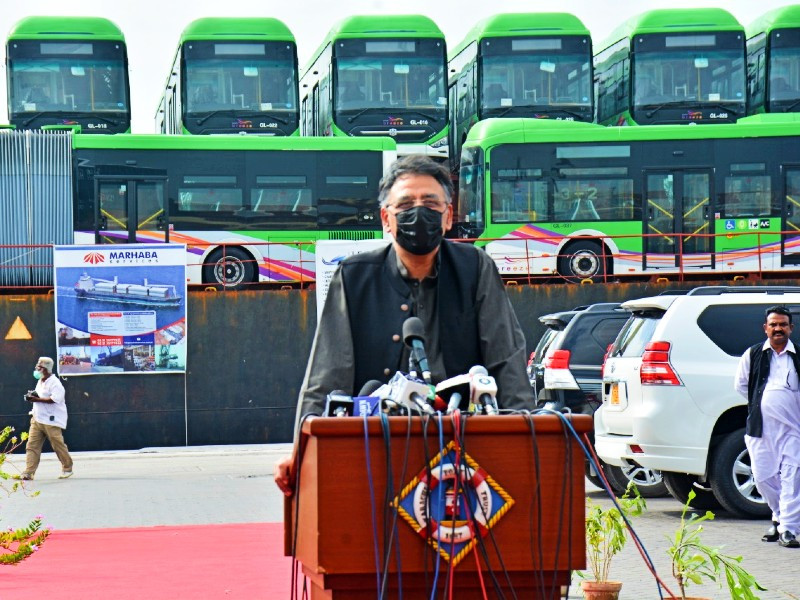 ---
Good news for residents of Karachi as the first consignment of 40 Green Line Bus Rapid Transit System (BRT) —the port city's first mass transit system — buses finally arrived from China on Sunday.
The work on the Rs24 billion federal-funded project — conceived by the previous Pakistan Muslim League-Nawaz (PML-N) government — had started in February 2016 and was scheduled to finish before the general election in July 2018.
The residents of Pakistan's largest city had to wait for five years to see the first metro bus hit the road. All this while, the citizens suffered a great deal due to the dug-up roads along the 26km stretch of the bus route making the commute difficult and lengthy; loss of business as a consequence of the construction work; and a smoke- and dust-filled atmosphere, giving rise to respiratory ailments.
Read more: Green Line deadlines
Addressing the ceremony of the arrival of the buses, Minister for Planning and Development Asad Umar on Sunday said that 40 more buses for the project will reach Karachi next month.
مبارک ہو کراچی. اس شہر کے پہلے جدید ٹرانسپورٹ نظام گرین لائن کے لئے 40 بسوں کی پہلی کھیپ کراچی پورٹ پہنچ گئی. انشاءاللہ 40 مزید بسیں اکتوبر کے آخر تک پہنچ جائیں گی. گرین لائن کا ٹیسٹ رن اکتوبر کے آخر تک اور کمرشل آپریشن نومبر کے آخر تک متوقع. pic.twitter.com/kQlccfvHu6

— Asad Umar (@Asad_Umar) September 19, 2021
He said that the commercial operation will start within two months whereas the test run of the buses is expected in October.
Asad said that 44 kilometres of roads are being constructed in Karachi and approval of Karachi Circular Railway will also be given soon.
He further said that this is the first time that a modern transport system has been introduced in the port city.
Speaking on the occasion, Sindh Governor Imran Ismail said that the Green Line bus service will provide the best transport facilities to the people of Karachi.
Also read: Govt to hire BRT Red Line contractor next month
Minister for Information Technology and Telecommunication Amin-ul-Haque, speaking on the occasion, said that the federal government is working on various welfare projects for the people of the metropolis.
Initially, around 450,000 passengers would be facilitated on daily basis and would eventually grow to over 1 million passengers daily.
A bus depot has been built for 80 buses while 22 bus stations have also been constructed.
It is pertinent to mention here that the Green Line will only cover one stretch of the city between North Karachi and Merewether Tower.
The Green Line is just one component of 'Karachi Breeze' — a project that comprises four more bus lines and promises a comprehensive transport solution for the city.
COMMENTS
Comments are moderated and generally will be posted if they are on-topic and not abusive.
For more information, please see our Comments FAQ