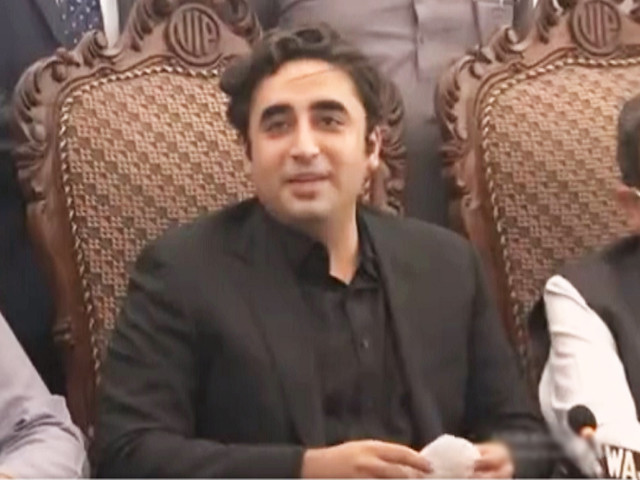 ---
LAHORE:
PPP Chairman Bilawal Bhutto Zardari, who has concluded his weeklong visit to southern Punjab, is expected to tour central Punjab next month, a party official said on Sunday.
Senior PPP leaders of Punjab have already been assigned the task to bring the runners-up of 2018 elections into the party fold to consolidate its position in the province.
Speaking on the condition of anonymity, the official said the PPP chairman would tour central Punjab in October, starting from Lahore.
"The party chairman will visit Gujranwala, Faisalabad, Sargodha and other cities. The details of the tour will be decided in the coming weeks," he added.
The official said when it came to rural areas, the party was focusing on "electables".
In the urban areas, however, the party was focusing on bringing runners-up in the last polls into its fold.
"Given the state of government and its affairs, the PPP believes that it was making the government not only in Centre, but also in Punjab in the next elections," he maintained.
He added that this was being conveyed to the "electables" and runners-up in a bid to convince them to join the PPP in large numbers.
The official said the task to bring runners-up to the party fold was assigned to PPP Central Punjab President Raja Pervaiz Ashraf, former premier Yousuf Raza Gilani and Makhdum Ahmed Mahmud.
Read More: After Bilawal, Hamza to visit southern Punjab
The PPP will form an alliance with the PML-Q in the coming elections and an understanding for this purpose has been reached.
He said meetings between the Chaudhry brothers of the PML-Q and the PPP chairman were telltale of that understanding.
The officials added that the people of Punjab were tired of both the PTI and PML-N, which was why the chances of the PPP making a comeback were bright.
PPP Central Punjab General Secretary Hasan Murtaza said Bilawal was expected to visit Central Punjab in October, but nothing had been finalised.
When asked about the PML-Q forging an alliance with the PPP, he said both parties enjoyed good terms. Besides, he added, PML-Q leaders had publicly stated that the comfort level they enjoyed with the PPP was not the same as with the PTI.
Murtaza said the people were sick and tired of the PTI's "poor governance" that had led to uncontrollable inflation, while the other party, whose leader was trying to bring revolution from London, also did not stand a chance in Punjab.
"Both the PTI and PML-N are tried and tested. The PPP will be the choice of Punjab in the next general elections."
The PPP central Punjab general secretary added that Bilawal's southern Punjab tour was "extremely successful". He added that during his visit there, 10 "electables" had announced joining the PPP including Sardar Muhammad Khosa, a heavyweight from Dera Ghazi Khan.
COMMENTS
Comments are moderated and generally will be posted if they are on-topic and not abusive.
For more information, please see our Comments FAQ