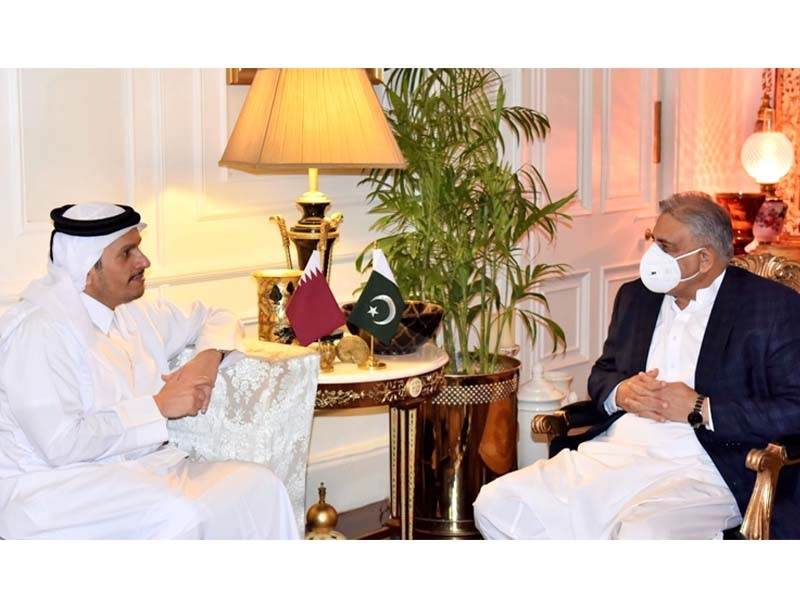 ---
Qatar's Foreign Minister Sheikh Mohammed bin Abdulrahman bin Jassim Al-Thani, who is on an official visit to Pakistan, called on Army Chief General Qamar Javed Bajwa and discussed matters of mutual interest including the latest situation in Afghanistan, the military said.
During the meeting, matters of mutual interest, regional security situation especially current situation in Afghanistan and cooperation in various fields were discussed, the Inter-Services Public Relations (ISPR) said late Thursday.
Gen Qamar reiterated the shared resolve of extending humanitarian assistance for Afghans. "Pakistan remains committed to working with its international partners for peace in the region and ensuring a stable and prosperous future for people of Afghanistan," the military's media wing quoted the army chief as saying.
Sheikh Mohammed bin Abdulrahman, who is also deputy premier of Qatar, appreciated Pakistan's role in successful evacuation operations from Afghanistan, efforts for regional stability and pledged to play their role for further improvement in diplomatic cooperation with Islamabad at all levels.
Also read: CIA director discusses Afghan situation with army chief, DG ISI
Earlier in the day, the Qatari FM called on Prime Minister Imran Khan and discussed bilateral ties and evolving situation in Afghanistan.
During the meeting, views were exchanged on the developments in Afghanistan and diversifying Pakistan-Qatar relations, a statement issued by the PM Office.
"The prime minister conveyed warm regards to His Highness Amir of Qatar," it added.
Highlighting that Pakistan had suffered enormously due to protracted conflict in Afghanistan, PM Imran underscored the importance of a peaceful, secure and stable Afghanistan for Pakistan and the region.
On the evolving situation in Afghanistan, he emphasised that it is vital to stabilise the security situation, prevent a humanitarian crisis, and stabilise the economy. He added that Pakistan has and will continue to play its role for the economic uplift, humanitarian relief and assistance to Afghanistan.
COMMENTS
Comments are moderated and generally will be posted if they are on-topic and not abusive.
For more information, please see our Comments FAQ