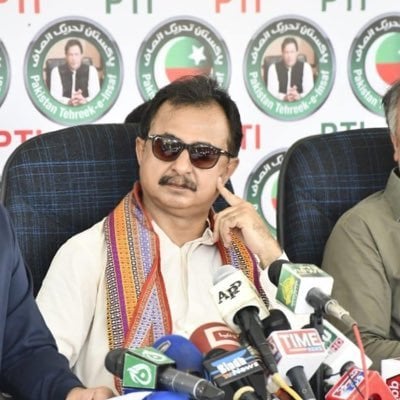 ---
HYDERABAD:
Terming drug peddling a dreadful feature of fifth generation war, Opposition Leader in Sindh Assembly Haleem Adil Sheikh has blamed the Pakistan Peoples Party-led Sindh government for patronising the illicit trade. "The Sindh government and the PPP leadership have been patronising illegal trade of narcotics, dacoit gangs and land grabbing in the province," he alleged, addressing an anti-narcotics conference, organised by the Pakistan Tehreek-e-Insaf at Hyderabad Press Club on Tuesday.
"The highly politicised police department can't take any action to check these illegal activities." He also quoted the incidents which exposed complicity of the police with the smugglers, especially referring to the recovery of drugs from the residence of a police official in Mirpurkhas and from a police mobile of Jamshoro district in Karachi.
He believed that 50 per cent of the drug trafficking problem can be resolved by nabbing the black sheep present in different government departments, including the police. Haleem said narcotics substances are easily accessible in all big and small cities of Sindh due to criminal involvement of certain police officials and emphasised on taking stern action against such public servants.
He pointed out that in addition to the black money generated from the narcotics trade, land grabbing and illegal trade in the real estate sector are two other major concerns of the Financial Action Task Force (FATF). "Stop patronising drugs and other mafias," he demanded, referring to the PPP government.
He said that the PTI will file a petition before the Sindh High Court against the racket drug peddling. He added that his party will constitute district level committees with representation of lawyers and civil society activists and those committees will highlight corruption and misuse of authority and other issues besides seeking remedies.
Published in The Express Tribune, September 8th, 2021.
COMMENTS
Comments are moderated and generally will be posted if they are on-topic and not abusive.
For more information, please see our Comments FAQ