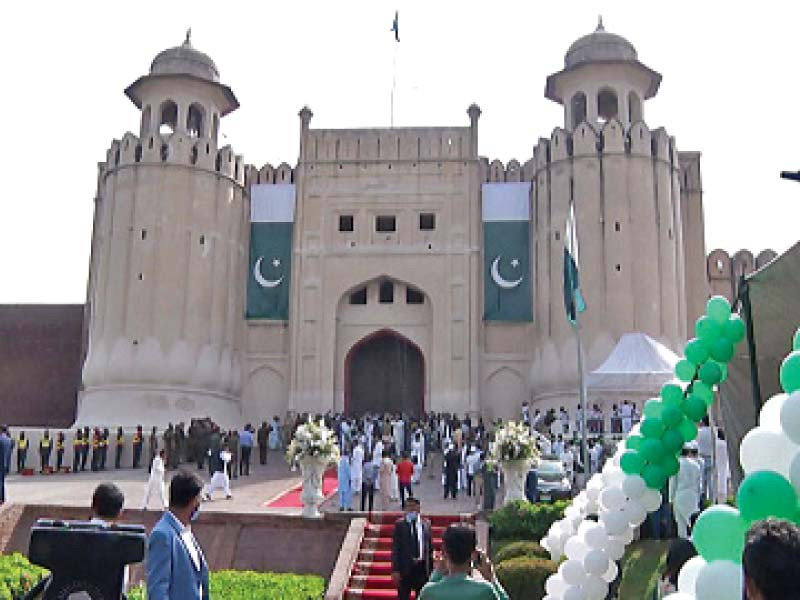 ---
LAHORE:
The 75th Independence Day of Pakistan was celebrated on Saturday with patriotic national zeal and fervour across Punjab including the provincial capital Lahore.
The Independence Day celebrations were started with special prayers in mosques after Fajr for peace, progress and prosperity of the country. The day dawned with a 21-gun salute by Pakistan Army at Yaadgar-e-Shuhada in Lahore Cantonment.
The main flag-hoisting ceremony was held at Hazuri Bagh, which was attended by Minister for Local Government and Community Development Mian Mehmoodur Rasheed, Lahore Division Commissioner Captain (retd) Muhammad Usman, parliamentarians, civil servants, minorities and citizens from different walks of life.
They jointly hoisted the national flag at the historic Alamgiri Gate of the Lahore Fort and visited the mausoleum of Allama Muhammad Iqbal, the poet of the east, laid a floral wreath, offered fateha and prayed for salvation and solidarity of the country.
Meanwhile, an impressive change of guards ceremony was held at the mausoleum of Allama Iqbal. During the ceremony, a smartly turned contingent of the Pakistan Army assumed the charge of the guards' duty from the Pakistan Rangers (Punjab).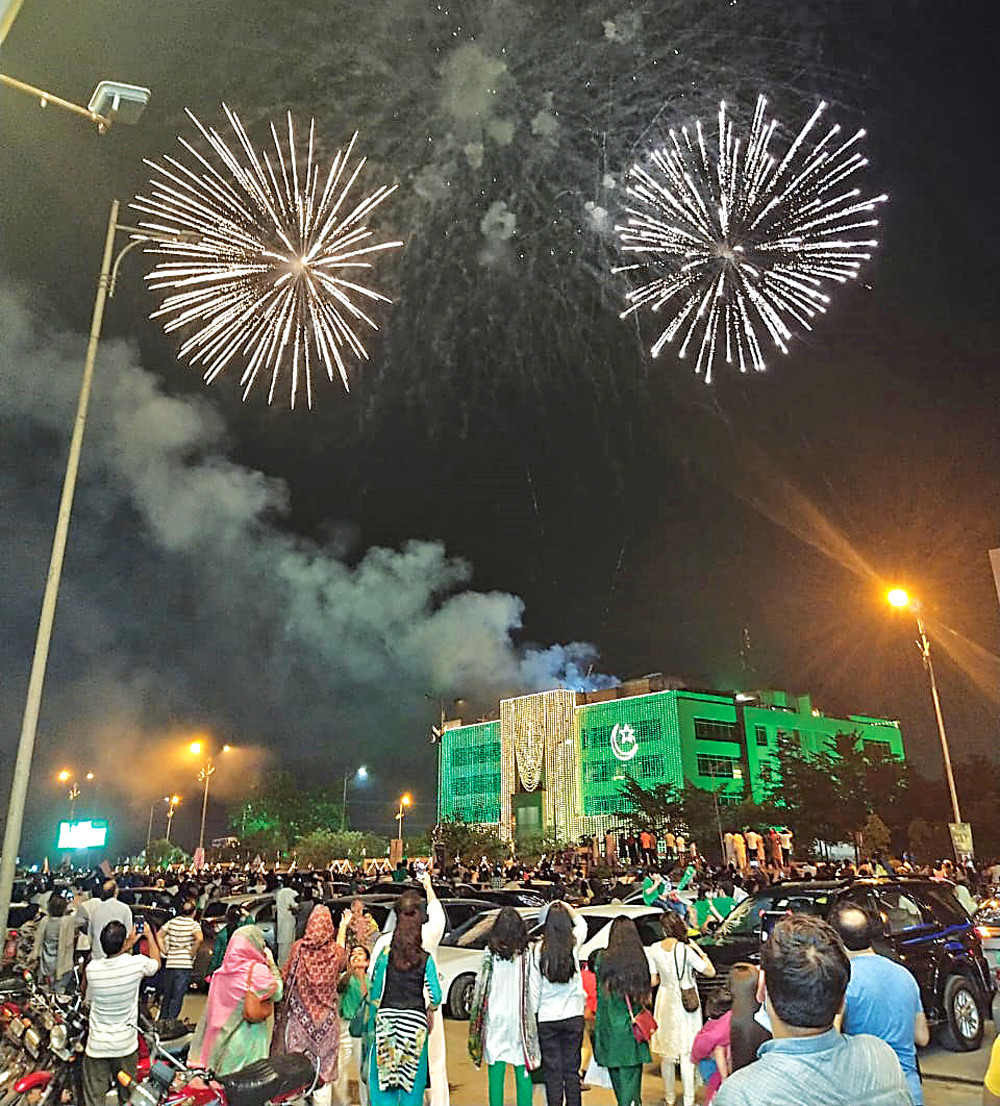 Various other flag hoisting ceremonies and walks were also held in different public and private offices, housing societies, markets and commercial centres, like Punjab Assembly, GPO, Town Hall, Wapda House, Lahore High Court, LDA Office Alhamrah Art Council and Tourism Development Corporation of Punjab.
To mark the 75th Independence Day of Pakistan, the Punjab government constructed a new monument, 'Pakistan Wall' at the entrance of GOR-1 Club Road. Kalma Tayyab and the national flag of Pakistan is displayed on the central section of the Pakistan Wall while the official emblem of governments of Punjab, Sindh, Khyber Pakhtunkhwa, Balochistan, Gilgit-Baltistan, and Azad Kashmir are displayed on sidewalls. Punjab Chief Minister Sardar Usman Buzdar has said the Pakistan Wall symbolises inter-provincial harmony and national unity.
Punjab government is committed to promoting brotherhood and national harmony among all provinces. During current circumstances, he underscored that there is more need of promoting brotherhood and harmony among provinces.
Read Pakistani, Indian border forces exchange sweets on Pakistan's Independence Day
"We have to put behind all our differences and work for the development of the country," he stressed.
Meanwhile, Punjab Governor Chaudhry Sarwar participated in a flag-hoisting ceremony at Government College University, Lahore and addressed a news conference flanked by Global Women Media (GWM) Chairperson Muneezay Moeen and brand ambassador of GWM Hira Mani.
Sarwar said Pakistan's defence is in strong hands. Every plan of the enemy will be thwarted. The time is not far when Kashmiris and the Palestinians will also be celebrating Independence Day. He said to make Pakistan strong and stable, every Pakistani has to fulfil his responsibility with complete honesty.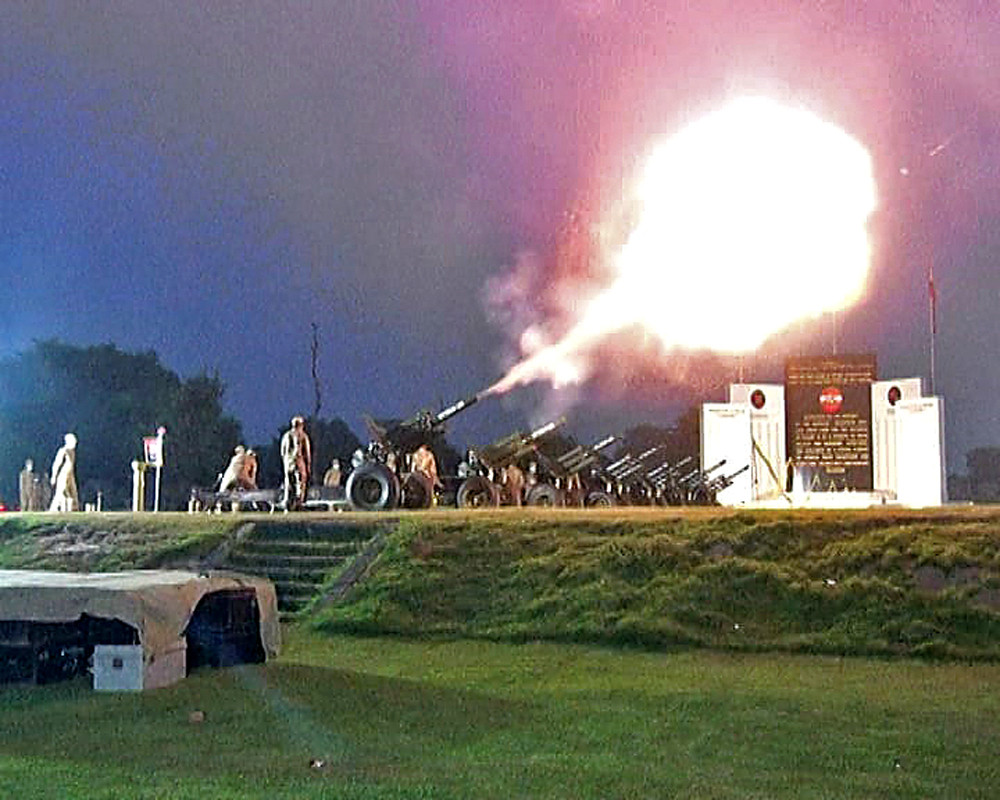 He said the mission of the government under the leadership of Prime Minister Imran Khan is to make Pakistan a welfare state according to the vision of Quaid-i-Azam and Allama Iqbal. He further said it was high time to forge unity among our ranks, adding he said: "Today, I appeal to political and religious parties of Pakistan to rise above political and personal interests and make decisions only in the interest of the country and the nation."
Commenting on the Afghanistan issue, he said that the situation in Afghanistan is deteriorating day by day, adding that Pakistan has played a positive role in the Afghan peace process earlier, and we are still working for peace in good faith and Pakistan would be benefitted the most due to peace in Afghanistan.
He said that the government of Afghanistan should set its own house in order instead of blaming others for its failure, adding that it is vital to ensure law and order in Afghanistan.
Published in The Express Tribune, August 15th, 2021.
COMMENTS
Comments are moderated and generally will be posted if they are on-topic and not abusive.
For more information, please see our Comments FAQ