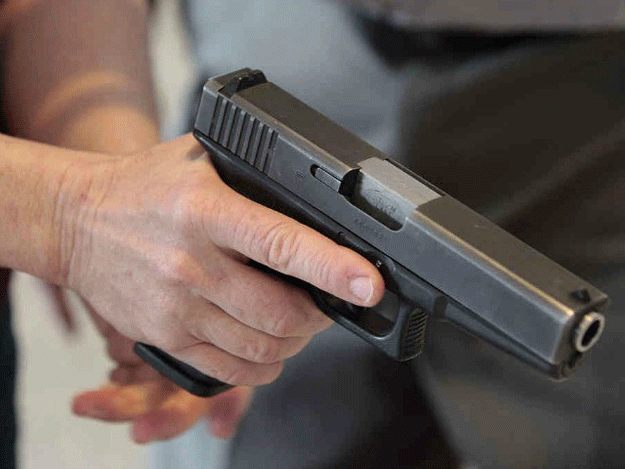 ---
DIJKOT:
A man allegedly shot his wife to death over a domestic dispute in Dijkot on Saturday.
The deceased woman had gone to her parent's house after a quarrel with her husband.
Police said 20-year-old Mehwish, daughter of Iftikhar Ahmed, a resident of Bawachak area of Millat Town, was married to 32-year-old Rizwan Saleh Mohammad, two years ago.
She got angry with her husband over some domestic dispute and went to her parent's house. On Saturday afternoon, her husband Rizwan came to her parent's house at Bawachak to take her back but she refused to go with him.
Resultantly, an exchange of harsh words ensued between the couple. In a fit rage, Rizwan shot Mehwish in the head. She was rushed to the Allied Hospital Emergency Ward in critical condition where she succumbed to her injuries.
Upon receiving the information, DSP Nishatabad Fayyaz Ehsan, SHO Millat Town Abid Jutt, in-charge Chowki Ali Town ASI Rana Ahad reached the spot, took the body in their possession and shifted it to the hospital for postmortem and started searching for her husband.
Read Woman allegedly abducted, gang-raped
Incidents of domestic violence are rampant in Punjab. Earlier this year in April, a man allegedly killed his wife after prolonged domestic disputes in the Gulshanabad area of Hasilpur, Punjab.
Kulsoom Bibi, a 32-year-old resident of the Gulshanabad area of Hasilpur, was shot in the head by her husband Muhammad Sharif, reportedly due to domestic disputes.
Upon receiving the report of the incident, the area police rushed to the spot and started preliminary investigation.
Kulsoom's husband initially claimed that some unknown persons had killed her. However, he reportedly confessed after further police interrogation that he had shot dead his wife due to domestic disputes.
The police said they had arrested the husband of the slain woman after his confession and further investigation was under way.
According to the people of the neighborhood, the couple had frequent domestic quarrels due to which the man might have killed his wife.
The police said they were also awaiting the forensic report. Meanwhile, the suicide of a man along with his wife and two children turned out to be the result of the seed trader facing economic hardship because of his money stuck in business transactions.
The trader, who was under pressure to pay his debt, committed suicide after killing his wife and two minor children in Hasilpur city.
Published in The Express Tribune, July 18th, 2021.
COMMENTS
Comments are moderated and generally will be posted if they are on-topic and not abusive.
For more information, please see our Comments FAQ