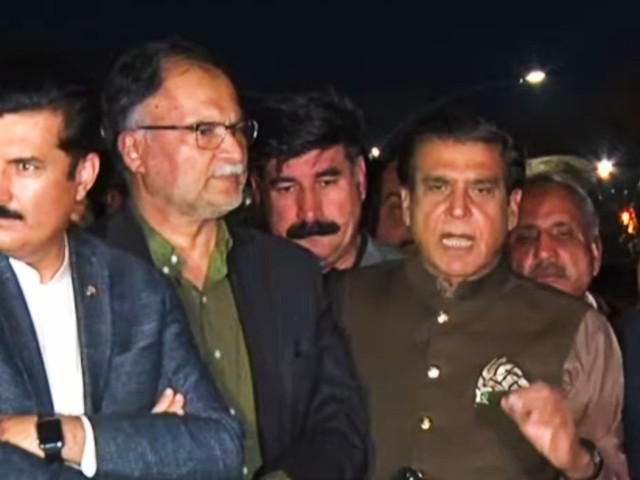 ---
QUETTA:
The Balochistan opposition lawmakers, who were in a police station for the last seven days, on Sunday refused holding further talks with a government negotiating committee, saying they couldn't fulfill the promise of withdrawing a case against them.
At least four rounds of talks between the government and opposition MPAs ended without a resolution after the latter had courted arrest in Quetta's Bijli police station when an FIR was registered against them for creating mayhem on the premises of the Balochistan Assembly on the budget day.
"The opposition will not hold further talks with the government as seven days have elapsed and the government was not withdrawing the FIR against us. Rather we will submit a requisition for a provincial assembly session," said Opposition Leader in the Balochistan Assembly Malik Sikandar while holding a press conference in the police station.
Read: MPA Jugnu Mohsin escapes unhurt in attack
He was accompanied by other MPAs, including Sanaullah Baloch, Akhter Hussain Langau and Malik Naseer Shahwani.
"The government had mala fide intentions against the opposition when they registered the FIR against us as we have not been arrested yet," he said, adding the government attempted to pressure the opposition through the process.
He said the government used armoured vehicle to torture the opposition lawmakers, who were protesting against the government for not allocating funds for their constituencies, on June 18. A female MPA and others were injured in the mayhem and they were under treatment, said Malik.
Sikandar claimed that provincial ministers including Chief Minister Jam Kamal knew nothing about the budget and said it was "unconstitutional and illegal".
"The opposition demanded to conduct a pre-budget session in the provincial assembly. But the government didn't accept our legitimate concern," the opposition leader said, accusing the leaders of giving benefit to certain people in the budget.
He said the opposition was raising voice for the rights of people of Balochistan inside and outside the assembly for the last three years because the people had been deprived of their rights.
"The government has failed to resolve the issues of the province," Sikandar said, adding the prevailing anarchy in Balochistan was an outcome of the policies of the provincial rulers.
Talking about peace and security in the province, the opposition leader rejected claims of the government about improved law and order situation in Balochistan, asking rhetorically how an Awami National Party leader was abducted from his area last night.
Published in The Express Tribune, June 28th, 2021.
COMMENTS
Comments are moderated and generally will be posted if they are on-topic and not abusive.
For more information, please see our Comments FAQ