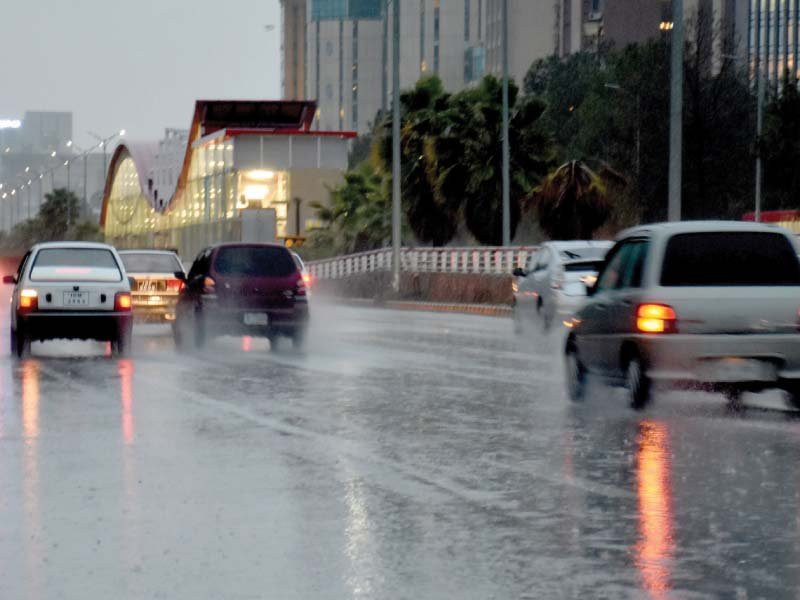 ---
RAWALPINDI:
After the sweltering heat, rain has lashed Rawalpindi on Wednesday evening, causing power outages in several areas and disruption in traffic flow as several vehicles broke down on roads.
Murree Road, Murir Chowk, Liaquat Bagh Chowk, Committee Chowk Underpass, Chandni Chowk, Rawal Road and Airport Road were inundated in the rain-water, causing traffic to move at a snail's pace.
The short spell of rain, which helped bring down the temperatures, also inundated several low-lying areas as residents struggled to stop rainwater from entering their homes.
According to the Met Office, 9mm rain was recorded in the Shamsabad area while disrupting the electricity supply in several areas.
Electricity could not be restored in a number of areas till the filing of this report. Meanwhile, the Met department said that a fully functional control centre in Rawalpindi was continuously monitoring the water flow in Nullah Leh as the water level rose to six feet at the Katarian area along the channel.
Read Major drains ignored in funds allocated for local govt dept
Officials said that the flood control room, Rescue 1122, the civil defence department and other relief agencies had been put on high alert to reach out to the citizens in need of help.
Moreover, the Rawalpindi CityTraffic Police (CTP) said that the police coordinated with other civic agencies to ensure a smooth and uninterrupted flow of traffic on city roads.
Chief Traffic Officer (CTO) Rai Mazhar Iqbal issued instructions to traffic wardens to ensure continuous traffic flow during the rain.
The CTO directed all traffic wardens to perform their duty with dedication while maintaining liaison with other departments to help the citizens.
The traffic police chief said thatcommendation certificates would be awarded to traffic officials who will perform their duty with responsibility during the emergency.