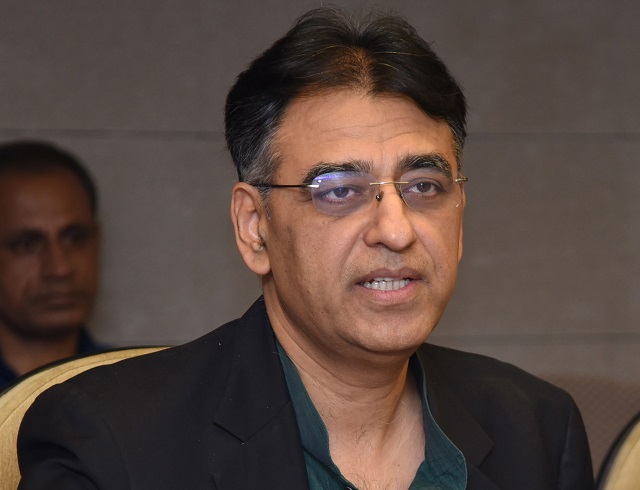 ---
GHOTKI:
Federal Minister for Planning Asad Umar said on Monday that Prime Minister Imran Khan neither wanted revenge from estranged Pakistan Tehreek-e-Insaf (PTI) leader Jahangir Tareen, nor will give he be given any concession.
"Prime minister's struggle spanning 22 years isn't against one person; we go by the name of justice and we believe in justice," Umar said while addressing a ceremony in Ghotki today.
The minister claimed that the law is equal for both the powerful and the weak in the society.
Umar further stated that the demands put forth by Tareen group were 'simple' and that they have deliberated upon.
Sindh govt's performance
Criticising the Sindh government, the PTI leader claimed the provincial government was not allowing the federal government to work in the province.
"They have a policy of nor working [on province's uplift] themselves, neither letting anyone else do it."
Read more Govt irons out wrinkles with Tareen group
Sindh, he added, had not witnessed any development work during the Pakistan People's Party's (PPP) rule during the past 50 years.
Tareen group's meeting
Two days ago, on May 22, Information and Broadcasting Minister Fawad Chaudhry ruled out a rift within the ruling PTI, saying that the estranged party lawmakers of the Tareen Group and the rest were all part of one family.
"We have decided to move forward as one family and any personal or collective problems would be addressed through talks," the minister told reporters, accompanied by PTI leader Aamir Mehmood Kiani, after they both attended a luncheon hosted by Punjab minister Nauman Langrial.
Langrial is among the members of the group of lawmakers, who pledged their loyalty to Tareen in the wake of money laundering and fraud charges against him.
Other members of the Tareen group including MPAs Saeed Akbar Niwani, Nazir Chohan, Asif Majeed, Ajmal Cheema, Umer Aftab and Khurram Laghari also attended the luncheon.
During the meeting, the two sides discussed the reservations expressed by the group. Fawad said they were all united under the leadership of Prime Minister Imran Khan and the opposition was celebrating for nothing. The minister added that he and Kiani had been assigned the task of addressing the reservations of group in an organisational manner.
Jahangir Tareen group's demands Prime Minister Imran Khan to deliver justice to them, in the wake of the cases registered against the party leader, saying they were being discriminated against.