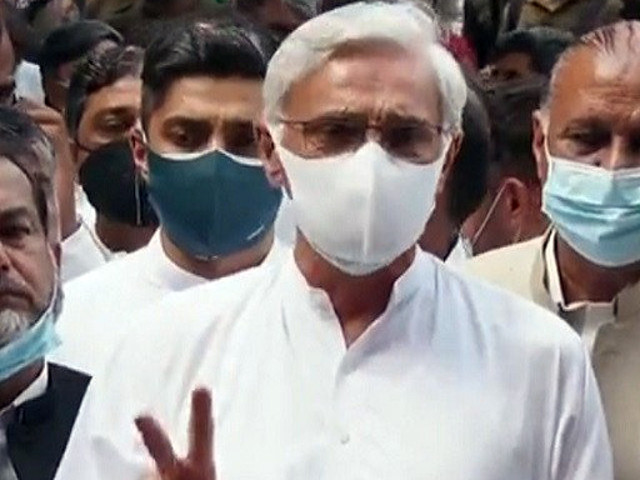 ---
LAHORE:
Punjab Chief Minister Usman Buzdar on Friday assured a delegation of the Jahangir Tareen Group -- dissident like-minded PTI lawmakers backing the former party general secretary in the wake of the money laundering and fraud proceedings against him – that the senior politician would not be subjected to "injustice".
The delegation included the group's "focal person" in the Punjab Assembly Saeed Akbar Niwani, provincial minister Nauman Ahmad Langrial and MPAs Nazir Chohan, Abdul Hayee Dasti, Ajmal Cheema and Umer Aftab.
The members of the delegation conveyed their concerns to the Punjab chief minister.
Buzdar assured them of "cooperation" and maintained that the cases against Tareen would be handled fairly.
After the meeting, the chief minister also hosted a luncheon for the group.
Buzdar had assigned the task of wooing members of the Tareen group to eight ministers including Sibtain Khan, Raja Yassir Humayun, Raja Basharat, Mian Aslam Iqbal,and Mian Mehmoodur Rasheed.
Each minister was asked to reach out to four members and assure them that Buzdar was ready to address their grievances.
The Tareen Group's reservations over bureaucracy, including posting and transfers, would be addressed. Each member of the group will receive equal development funds.
The bureaucracy will solve all legitimate problems of the group.
In return, the members of the Tareen Group will not engage in controversial discussions on talk shows, follow party discipline and support all the government's initiatives, including approving the budget.
Speaking to the media after the meeting, Langrial said the group was satisfied with how the investigation against Tareen was proceeding.
"We are also satisfied with the prime minister's promise that there would be no injustice with Tareen," he added.
He maintained that the group had complete trust in the inquiry being conducted by Senator Barrister Ali Zafar, who had been assigned the task of investigating the reservations expressed by the estranged lawmakers.
Langrial further said the Punjab chief minister had given a "very positive response" to the group and heard its members' concerns with "patience".
He added that he hoped that the chief minister would now stick to his word and ensure that their reservations were addressed.
The provincial minister said Buzdar had assured them that the provincial budget would be beneficial for all parts of Punjab.
Speaking on the occasion, Niwani said that it was normal for a groups of friends in political parties to be formed to resolve the concerns of an area or the problems of the people.
The MPA said that the group had two issues, one of which was the inquiry against Tareen.
"We have never asked the prime minister to show us any favour and only demanded that no injustice be done," he added.
Niwani further said Buzdar had invited them to address their grievances.
"We had a very open discussion on the issues we are facing in our constituencies, development works, the rising prices of commodities and our concerns over the upcoming budget."