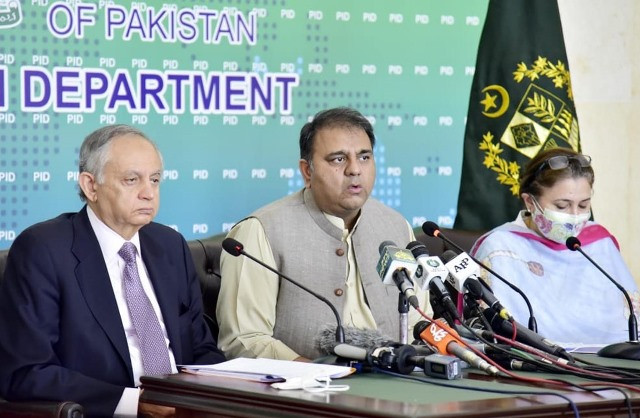 ---
LAHORE:
Information and Broadcasting Minister Fawad Chaudhry on Saturday ruled out a rift within the ruling PTI, saying that the estranged party lawmakers of the Tareen Group and the rest were all part of one family. "We have decided to move forward as one family and any personal or collective problems would be addressed through talks," the minister told reporters, accompanied by PTI leader Aamir Mehmood Kiani, after they both attended a luncheon hosted by Punjab minister Nauman Langrial.
Langrial is among the members of the group of lawmakers, who have pledged their loyalty to estranged PTI leader Jahangir Tareen in the wake of money laundering and fraud charges against him. Other members of the Tareen group including MPAs Saeed Akbar Niwani, Nazir Chohan, Asif Majeed, Ajmal Cheema, Umer Aftab and Khurram Laghari also attended the luncheon.
During the meeting, the two sides discussed the reservations expressed by the group. Fawad said they were all united under the leadership of Prime Minister Imran Khan and the opposition was celebrating for nothing. The minister added that he and Kiani had been assigned the task of addressing the reservations of group in an organisational manner.
"Differences can emerge within a family too. There is a need for improving the party's political and administrative coordination," he conceded. "All of them [members of the group] are seasoned politicians and many of their grievances carry a great deal of weight." The minister, however, clarified that PM Imran would not resort to doing anything illegal to save Tareen. He added that it was not in PM Imran's nature to accept any illegal favours for somebody and neither should Tareen expect him to do so. "We have full confidence in the report being prepared by Senator [Ali] Zafar."
The minister accused former Punjab chief minister Shehbaz Sharif of approving the extension of Rawalpindi's Ring Road, adding that an inquiry into the matter was ordered during the PTI government's tenure. An investigation committee has found that the extension was added to the original plan of the project to benefit private entities and individuals. In response to a query about the premier's criticism of the National Accountability Bureau (NAB), Fawad said the anti-graft body should not bite more than it could chew rendering it unable to take a case to its logical conclusion.
"We want NAB to limit itself to cases of mega corruption only so that it could deliver results," he added. The minister said the PTI was the only party, which had representation in all four provinces and PM Imran had a vote bank across the country. On the contrary, he added, the PML-N was the party of central Punjab and the PPP was limited to rural Sindh. "Elections were held on around 1,100 to 1,200 seats in the country and there was no party except the PTI to field candidates in all the constituencies," he added "We are proud to say that the PTI is a federal party."
Speaking on the occasion, Langrial expressed his gratitude to Fawad and Kiani for hearing them out. MPA Nazir Chohan said the government should make the report against Tareen and his son public. (WITH INPUT FROM APP)