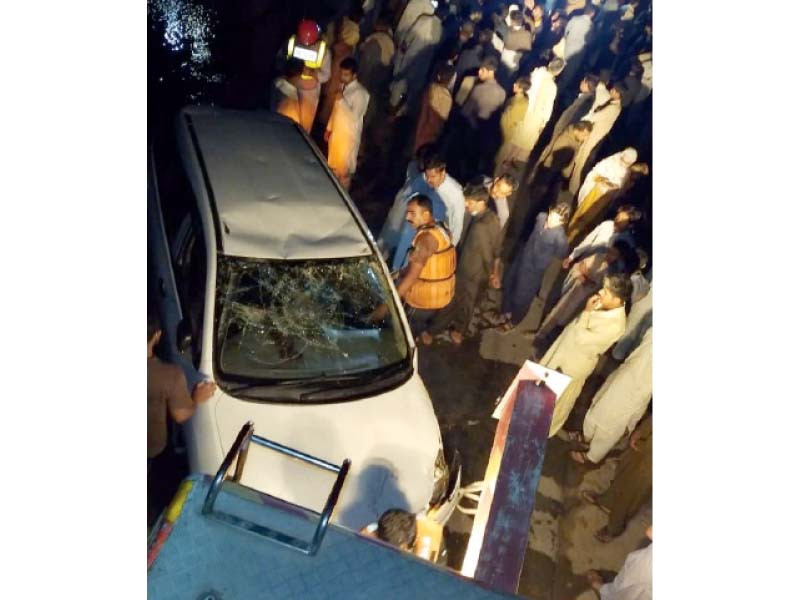 ---
SHEIKHUPURA:
The funeral prayers of 11 members of a family who had died after a vehicle plunged into a canal in Khanqah Dogran area of Sheikhupura on Friday night were offered at Qila Deedar Singh.
The dead included a couple, their four sons and a daughter.
The Bhutanpura Canal along a road leading to the motorway from Dogran Monastery does not have fences, due to which many lives have been lost in accidents over the past years.
The daughter the chairman of the local Anjuman-e-Tajiran was visiting Qila Deedar Singh with her husband and children when their car fell into the canal reportedly due to speeding and absence a protective fence.
The accident claimed the lives of 11 family members on the spot. Teams of the Rescue 1122 service did not arrive at the spot for a considerable period, prompting the area residents to retrieve the bodies from the canal.
The rescue personnel shifted the bodies to the Rural Health Centre (RHC) at Khanqah Gogran.
The dead include seven children, three women and a man. The deceased children were identified as Harira Afzal aged 13 years, Saad Afzal, 11, Hassan Afzal aged nine years, Hussain Afzal aged six, Chand Afzal and Subhan Imran aged 12 years.
The other victims included Afzal Iqbal aged 42 years, his wife Sadia Afzal, 40, Munawar Iqbal, 70, Madiha Imran, 35.
Deputy Commissioner Muhammad Asghar Joya also reached the spot and announced that a fence or wall would be built along the canal to avoid such accidents in future.
On the other hand, the authorities concerned failed to arrange ambulances at the site of the accident, due to which the bodies had to be shifted from the Khanqah Dogran Rural Health Centre on a truck to Qila Deedar Singh in Gujranwala district.
The video of the shifting of bodies on the truck went viral on social media, prompting citizens to criticise the district administration and government officials concerned.
The deputy commissioner could not be reached for comments despite repeated attempts.
Relatives of the deceased appealed to the authorities to take notice of the incident and order a transparent investigation for taking action against the officials responsible for the lack of proper safety measures along the canal running beside the road.
Published in The Express Tribune, May 16th, 2021.
COMMENTS
Comments are moderated and generally will be posted if they are on-topic and not abusive.
For more information, please see our Comments FAQ