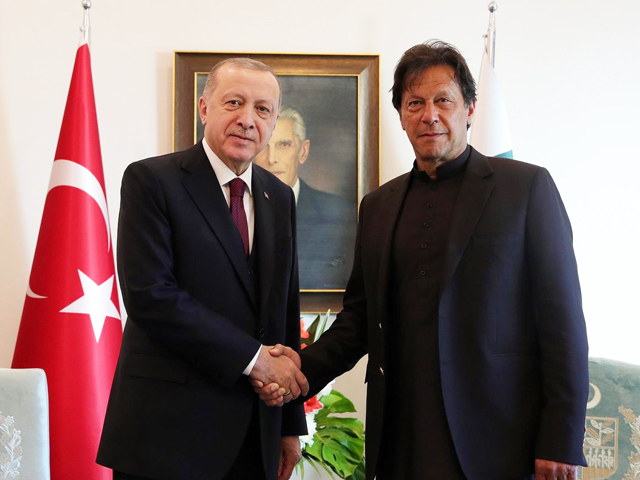 ---
Prime Minister Imran Khan and President of Turkey Recep Tayyip Erdogan on Wednesday vowed to work together especially at the United Nations in jointly mobilising the international community to help stop heinous attacks by Israel on Palestine.
The two leaders exchanged views during a telephone call made by the Turkish president, a statement from the Prime Minister's Office (PMO) said.
It said that the two leaders exchanged views on Israel's heinous attack on Al-Aqsa Mosque and the worshippers inside as well as on Gaza during Ramazan, violating all norms of humanity and international laws.
Read more: At least 49 killed in Gaza as Israel carries out hundreds of airstrikes
The leaders also agreed that the foreign ministers of both countries would be working closely together to raise the Palestinian issue at international level.
PMO statement said that the regional security situation also came under discussion.
Appreciating Turkey's role, the premier stressed the importance of a responsible withdrawal and added that Pakistan would continue to extend all possible support to the efforts for a political solution for durable peace and stability in Afghanistan.
"Both leaders discussed further strengthening of bilateral relations and agreed that the momentum of high-level exchanges between Pakistan and Turkey would continue," the statement added.
The two leaders also exchanged greetings on Eidul Fitr, it further said.
The development came as Israel carried out hundreds of airstrikes in Gaza on Wednesday, killing at least 49 people since violence escalated on Monday.
Read more: Iran's Khamenei says fight against Israel is a public duty
The Palestinian fighters also fired multiple rocket barrages at Tel Aviv and the southern city of Beersheba in the region's most intense hostilities in years.
One multi-storey residential building in Gaza collapsed and another was heavily damaged after they were repeatedly hit by Israeli airstrikes.
Israel claimed its jets had targeted and killed several Hamas intelligence leaders early on Wednesday. Other strikes targeted what the military said were rocket launch sites, Hamas offices and the homes of Hamas leaders.