 ---
LAHORE:
As Punjab faces a deadly third surge of the coronavirus pandemic, an increasing number of children are testing positive for the respiratory infection.
According to provincial health department documents, more than 26,000 children have tested positive for the virus during the current wave of the super spreader, which has infected more than 273,000 people in the province since its onset.
Medical practitioners on the frontlines in the fight against Covid-19 confirmed the fresh spike in the number of cases has witnessed more pediatric patients. The positive cases, they said, were reported in patients between the age of 1-18 years.
In Lahore alone this month, the number crossed the 6,600 mark. Data released by the provincial health department shows that the number of pediatric patients has been increasing steadily.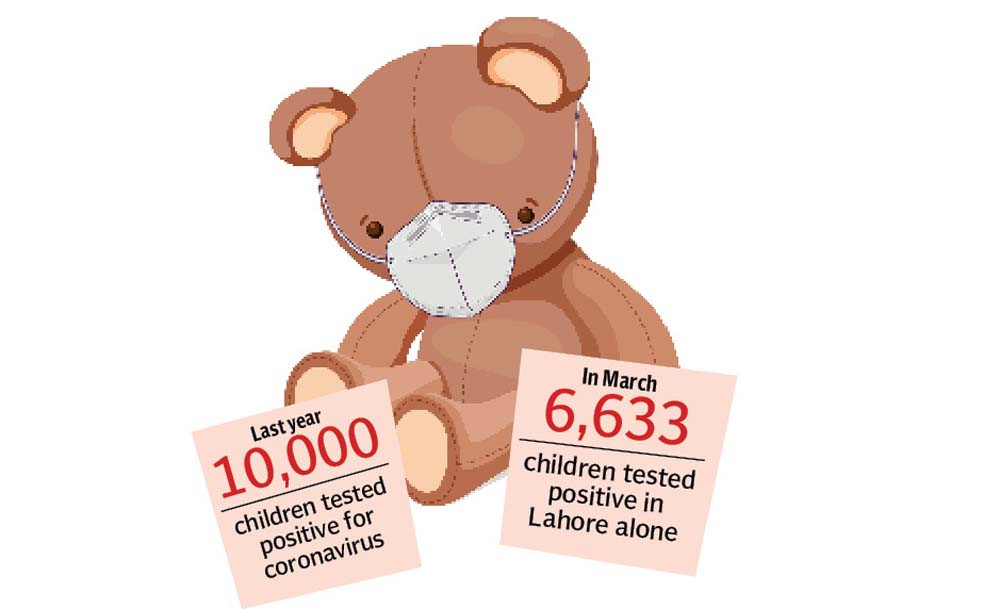 In February this year, a total of 1,669 children tested positive. A month later, in March, a total of 5,000 children were infected. Similarly, last year, more than 10,000 children were affected by the virus in the province.
Read Sindh sees 885 Covid cases in a day
"Children are testing positive for Covid-19 all over the world. The third wave has been particularly dangerous," said Dr. Javed Akram, Vice Chancellor, University of Health Sciences. The new variants, Dr. Akram said, are more dangerous than the previous ones.
When asked how to protect children against the respiratory disease, he responded: "We need to accelerate the trial and ensure children are vaccinated as soon as possible." While the government has made some gains in that area, figures released by the health department are alarming.
Medical practitioners blame the ineffective restrictions and violations of standard health and safety protocols for the surge in cases. "Inadequately implemented lockdowns and violations of SOPs resulted in the spike," said Dr. Salman Kazmi, General Secretary, Young Doctors Association of Pakistan.
According to Dr. Kazmi, a large number of children are receiving treatment at Lahore's Mayo Hospital, General Hospital, Children's Hospital, and other healthcare centres. "If we continue to flout SOPs, the number of patients will increase further," he warned. Hospitals across Punjab, he cautioned, do not have the required facilities for the treatment of children and will not be able to handle the number of cases if they continue to increase at 'this rate'. Medical practitioners also said parents must check their children's temperature twice daily and monitor them for other coronavirus-related symptoms. "Parents should encourage social distancing and wearing masks, which may not be implemented properly at schools," they said. Children, they said, are more likely than adults to be the carriers of Covid-19 under the current circumstances.
The provincial health department did not respond to requests for comment on the administration's plan to deal with the increase in pediatric patients.
Published in The Express Tribune, April 22nd, 2021.