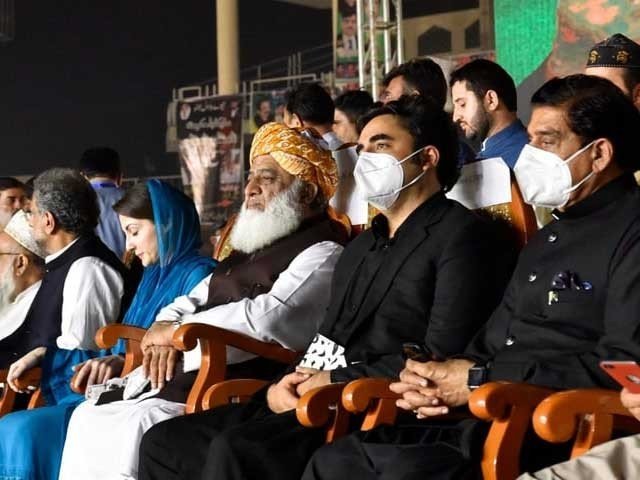 ---
LAHORE:
The Pakistan People's Party (PPP) has decided to respond sternly to the Pakistan Democratic Movement's (PDM) show-cause notice issued a day earlier, it emerged on Tuesday.
According to Express News, PPP Chairman Bilawal Bhutto has asked party's senior leaders to prepare a stern response to the notice.
The report added that PPP leaders Sherry Rehman, Raja Pervez Ashraf, Farhatullah Babar, Nayyer Bukhari and others have been tasked with preparing the draft of the response.
Read PDM issues show-cause notice to PPP, ANP
The reply would then be sent to Bilawal and PPP co-chairman Asif Ali Zardri for approval. The PPP has also summoned its Central Executive Committee (CEC) meeting following the development.
In its response, the party is reportedly to take an aggressive tone, targeting policies of the PDM and Pakistan Muslim League-Nawaz (PML-N).
The report further stated that the PPP would also address a presser on the issue soon, wherein it would hold the PML-N responsible for creating a rift in the ranks of the alliance.
On Monday, the PDM served show-cause notices to two of its constituent parties – the PPP and the Awami National Party (ANP) – for seeking the support of the Balochistan Awami Party (BAP) – a part of the ruling coalition – for securing the coveted position of Senate leader of opposition for PPP's Yusuf Raza Gilani.
Read more PPP gives tit-for-tat response to PDM
PDM Secretary-General Shahid Khaqan Abbasi confirmed the development after attending a meeting of the 27 senators from the PDM parties – including the PML-N and the JUI-F – that have refused to accept Gilani as the Leader of the Opposition in Senate.
"Through the show-cause notices, the PDM has sought clarification from both the parties about seeking votes from the BAP," said Abbasi, who belongs to the PML-N.
The parties also agreed to form a separate bloc of 27 opposition senators in the upper house, to be led by Senator Azam Nazir Tarar, the PML-N's candidate for the position of Senate opposition leader.
The ties among component parties turned sour after the PPP appointed its stalwart Gilani as the Senate opposition leader, apparently in violation of what had earlier been agreed upon in a PDM meeting.
COMMENTS
Comments are moderated and generally will be posted if they are on-topic and not abusive.
For more information, please see our Comments FAQ