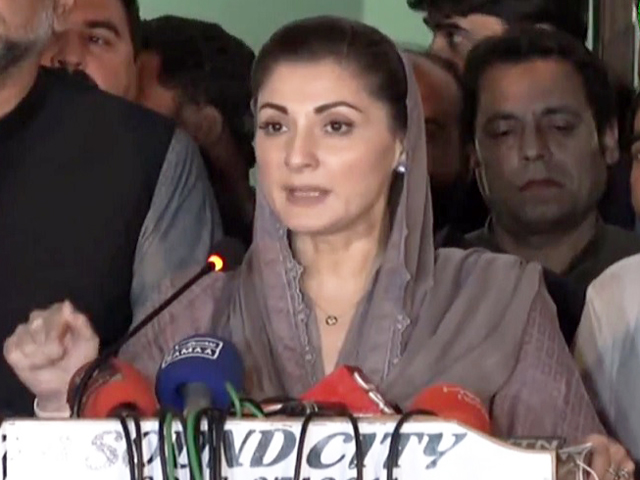 ---
LAHORE:
Pakistan Muslim League-Nawaz (PML-N) Vice President Maryam Nawaz termed on Monday the National Accountability Bureau's (NAB) plea seeking cancellation of her bail ridiculous, saying the institution had become a mere institution of revenge.
The PML-N leader's comments came during a media talk just before the Lahore High Court (LHC) was set to take up NAB's plea regarding her post-arrest bail in the Chaudhry Sugar Mills case.

Maryam said that the anti-graft watchdog had failed to control corruption in the country and refused to take responsibility for it.
"I went every time NAB summoned me, despite the assassination attempt," she said in reference to an incident that the PML-N claimed was an attack on the vice president's life. "But these cowards did not open the door," Maryam added.
The PML-N leader further stated that a case should instead be registered against NAB for filling a false petition in court, adding that the bureau had become a mere institution of revenge and that she was trying to expose them.
Read Anti-graft body challenges Maryam Nawaz's bail
Maryam added that she was kept in custody for three months after being arrested in front of her father – PML-N supremo Nawaz Sharif.
She also denied taking part in any form of anti-state propaganda.
Criticising NAB's reasoning for cancellation of bail, that she was "misusing her bail" by talking against state institutions since she was granted one, Maryam asked, "Who gave you the right to judge statements?"
Referring to allegations of her and other party leaders attacking state institutions through political speeches and social media, she maintained that the statement made by Mian Javed Latif, a National Assembly member from the PML-N, was presented after being twisted.
The PML-N VC further said that the NAB was actually upset that she had been speaking against inflation, nepotism, gas and electricity theft and the administrative failure to clean piles of garbage [from cities].
She reiterated that the PML-N will not stay silent and will continue to do its politics.
"You cannot scare Maryam Nawaz with threats of sending her to jail. It can't happen because she is not a coward like [PM] Imran Khan," she stated.
Maryam urged the judiciary to take notice of such false petitions and take action against NAB itself.
"I hope that the high court will not only reject this petition but will also block the path for such ridiculous petitions in the future," she said.
'Illegitimate government'
The PML-N leader also condemned the incumbent government, calling it an unconstitutional, illegitimate and criminal government that has been imposed on the country.
She said that the government has requested to negotiate several times but the PML-N and Pakistan Democratic Movement (PDM) refused.
Maryam added that every time the government is in trouble it hides behind the façade of Covid-19.
She said that the only solution is for the nation to get a vaccination to get rid of PM Imran and his ruling Pakistan Tehreek-e-Insaf (PTI) government.
Read more Oath-taking marred as opposition protests 'spy cameras' found in Senate
Furthermore, Maryam criticised the installation of 'hidden cameras' in the Senate hall during polls for the upper house's chair and deputy chair.
She also rejected the premier's vote of confidence in the National Assembly saying it was forcibly taken and not legitimate.
The PML-N vice president also censured Yousuf Raza Gilani's loss in the Senate election adding that he will get justice from court.
"I have been arrested before but now my arrest will brew trouble for them," she warned while talking about NAB's petition.
She added, "If I was arrested, Nawaz Sharif will lead this movement from London."
Responding to a question, Maryam said that Nawaz Sharif was scheduled to address a party meeting later today.
COMMENTS
Comments are moderated and generally will be posted if they are on-topic and not abusive.
For more information, please see our Comments FAQ