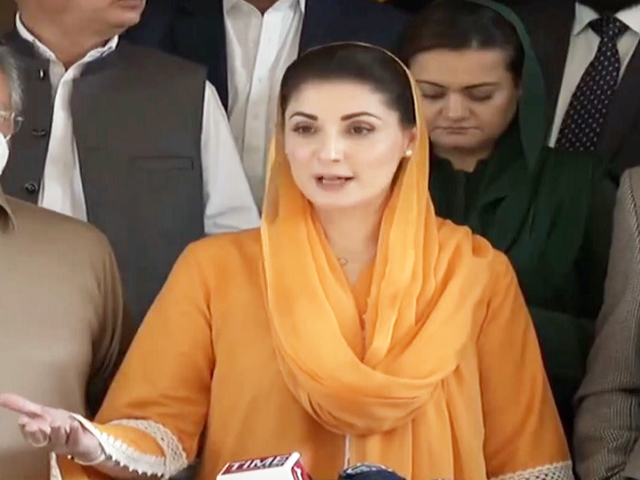 ---
LAHORE:
The country's top anti-graft body on Saturday moved the Lahore High Court seeking the cancellation of bail granted to PML-N Vice President Maryam Nawaz in the Chaudhry Sugar Mills case.
In a petition filed by the National Accountability Bureau (NAB) chairman through the Punjab prosecutor general, it was argued that Maryam was misusing her bail as she refused to appear before the bureau despite repeated summons. The anti-corruption body maintained that after her release on bail, she had been attacking state institutions through media and social media, continuously making false accusations and engaging in anti-state propaganda.
The plea further stated that several investigations were under way against the PML-N leader but she was not cooperating with the accountability watchdog despite being on bail. According to the petition, Maryam failed to provide the required documents, after which she was summoned in person on August 11, 2020. However, instead of appearing before the bureau, she used her political power to attack the NAB Lahore office.
Read NAB to also probe Maryam in Safdar's assets beyond means case
A separate case has been registered against the PML-N leader in connection with the attack, the petition added. NAB took the position that Maryam was obstructing the investigation by not appearing, and using tactics to give the public the impression that state institutions were inactive. "She is deliberately making statements tarnishing the image of state institutions, and despite being released on bail, she is not cooperating with the NAB investigation.
Her bail in the Chaudhry Sugar Mills money laundering case should be cancelled," the watchdog said in its plea. The LHC fixed Maryam's bail cancellation petition for hearing. A two-member bench, headed by Justice Sardar Sarfraz Dogar, will hear the petition. The LHC on November 4, 2019, had granted bail to Maryam who was arrested in the Chaudhry Sugar Mills case. The two-member bench of the high court, comprising Justice Ali Baqar Najafi and Justice Sardar Ahmad Naeem, had announced the verdict and ordered her to furnish two surety bonds, each worth Rs10 million, and deposit an additional Rs70 million and surrender her passport to secure her release.
Maryam had approached the high court on September 30 seeking post-arrest bail. After her father former prime minister Nawaz Sharif's health deteriorated, she submitted a petition on October 24 seeking immediate bail on the basis of humanitarian reasons and fundamental rights.
COMMENTS
Comments are moderated and generally will be posted if they are on-topic and not abusive.
For more information, please see our Comments FAQ