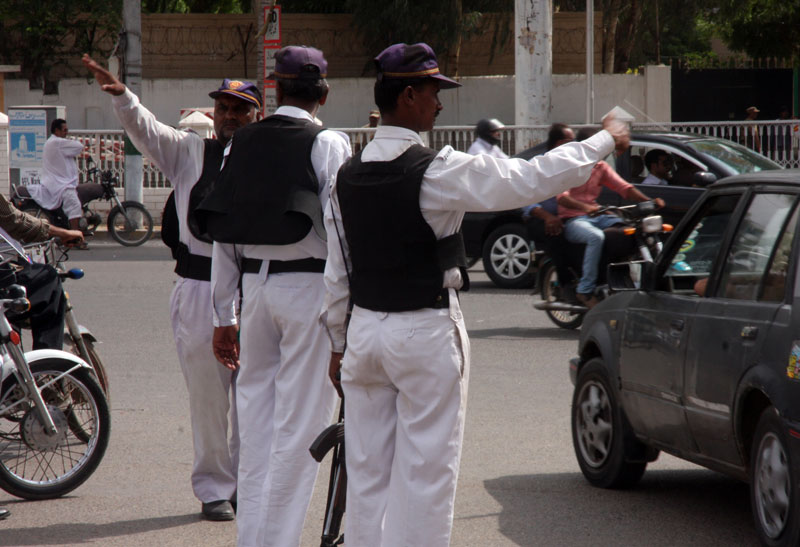 ---
KARACHI:
The security arrangements for the test cricket matches between South Africa and Pakistan beginning Tuesday (tomorow) have been finalised, said the Security and Emergency Services spokesperson on Monday.
According to the spokesperson, 5,000 officials of Karachi Police, including 1,050 Special Security Unit (SSSU) commandos, 1,500 security division personnel, along with traffic police, Rapid Response Force, special branch and other law enforcement agencies personnel will remain deployed at the airport, practice grounds, hotels and routes for transporting the teams from airport to the stadium and back. He said that specialised command and control buses will be present at the National Stadium to monitor the peace and security situation around the stadium.
Besides, it was said that expert snipers have been deployed in the areas surrounding the stadium and routes in order to improve security arrangements. He said that aerial surveillance will be carried out as well.
SSU Commandant Dr Farrukh Ali said that Special Weapons and Tactics team consisting of highly trained and modernly equipped commandos would be deployed inside and outside the stadium to deal with any emergency situation. He said that only the main road outside the stadium will be closed during matches for the convenience of citizens and facilitating the flow of traffic.
Read More: Revised plan: Karachi traffic police makes allowances for smaller vehicles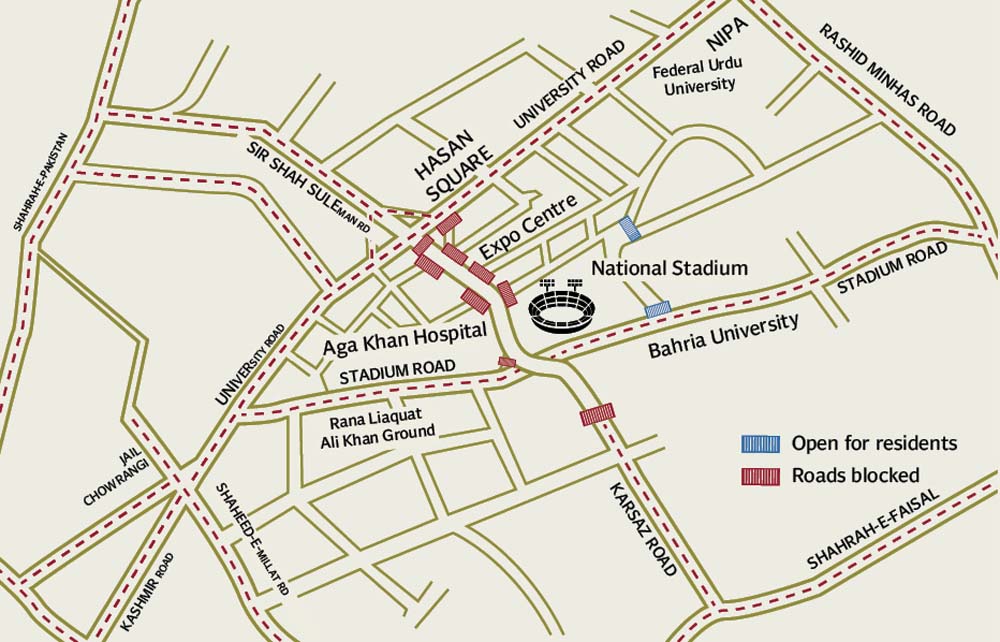 On Saturday, the traffic police issued a revised traffic plan on Saturday night for the test cricket matches between Pakistan and South Africa that are to be held at the National Stadium from January 26 and continue till January 30.
According to a traffic police spokesperson, in light of the concerns raised by citizens, three roads leading to the National Stadium Flyover and signal - Karsaz Road, Dalmia Road and the road leading up to the stadium from New Town - that were closed earlier will be allowed to remain partially open for traffic. Public transport and heavy vehicles will still be barred from these routes. According to the revised traffic plan, the road heading from Liaquatabad via Hassan Square Flyover, and the path from Karachi Expo Centre towards the National Stadium Road, via Sir Shah Suleman Road will be closed for the public. Commuters will be diverted towards University Road instead. Besides, the National Stadium Flyover will also remain closed for traffic. The spokesperson further said that small vehicles will be permitted to pass through Habib Rehmatullah Road from Karsaz to the signal on National Stadium Road, but public transport and heavy traffic will be restricted. The same restrictions will hold for the route from Dalmia Road to the signal from Millenium Mall and the road leading to the National Stadium from the New Town turn. Only small vehicles will be allowed to pass through these roads.
Published in The Express Tribune, January 26th, 2021.
COMMENTS
Comments are moderated and generally will be posted if they are on-topic and not abusive.
For more information, please see our Comments FAQ