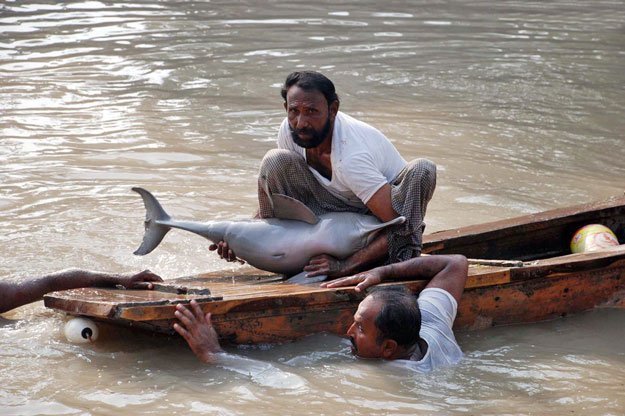 ---
SUKKUR:
A team comprising Sindh Wildlife Department (SWD) officials and local fishermen and divers rescued two stranded male blind Indus dolphins, colloquially called andhi bulhan, in Luqman, Sukkur on Monday and released them into their natural habitat.
The mammals were spotted in October last year. The operation to rescue them, however, had to be pushed to January.
When asked, Sindh Wildlife Department officials in Sukkur said they were not sure when the dolphins left their home - a water channel between Sukkur and Guddu Barrage - and ended up in a water body spread over an expanse of roughly eight acres and having a depth of around 66 feet.
According to SWD chief conservator Javed Ahmed Mahar, his department had been waiting for the right time to start the operation.
"The annual closure of Sukkur Barrage's channels [for maintenance] in January is when we could initiate the operation," he explained.
Read Measures taken: Efforts afoot to save endangered Blind Dolphin
Adnan Khan, a Sindh Wildlife Department official who led the rescue team, told The Express Tribune that it took them four days to prepare for the operation.
Sharing more details about the operation, he said, "We stayed in water for almost four hours, trying to make the dolphins safely move towards shallow water."
"We spread a net in a bid to make the dolphins swim toward shallow water…where they got entangled in the net," said Khan. "This was a critical moment when we needed to take utmost care during this time."
In this regard, Mahar said that divers, primarily tasked with disentangling dolphins from the net, scooping them and bringing them out of water, only had 80 to 120 seconds to complete the task.
According to wildlife experts, the dolphin comes out of water after every 80 to 120 seconds for air. This is called surfacing.
"The rescue team has to release the mammal from the net and bring it out of the water within 80 seconds," said Mahar.
Khan further explained that if the dolphin is not brought out of the water within 80 seconds, there are 99 per cent chances of it dying.
"So we launch a rescue operation keeping in mind that the chance of rescuing the dolphin alive is just one per cent," he said. "These dolphins keep coming to the water surface round the clock and are classified among those mammals that hardly sleep. It takes a 'nap' for the mere 80 seconds it stays out of the water."
After the dolphins were rescued on Monday, they were rushed to their natural habitat, and it took the rescue team an hour to transfer the mammals.
According to Khan, the rescue teams carrying out such an operation cannot afford to have any hindrances on the way to the animals' natural habitat as each minute counts.
He added, "And it always feels wonderful to release them in their habitat."
Blind Indus dolphin is endemic to the Indus River system. A survey conducted in 2019 concluded that the total population of dolphins in canals between Guddu and Sukkur Barrages was 1,419 at the time.
Published in The Express Tribune, January 20th, 2021.
COMMENTS
Comments are moderated and generally will be posted if they are on-topic and not abusive.
For more information, please see our Comments FAQ