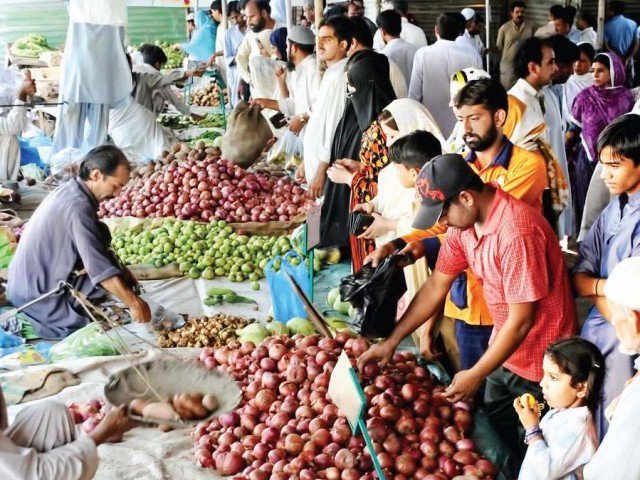 ---
LAHORE:
Sale of substandard commodities was witnessed in Sahulat Bazaars amid overcharging in markets across the provincial capital on Sunday.
Although the entire state machinery from the prime minister to deputy commissioners is apparently active to rein in the prices of essential commodities, the situation in the city markets is yet to improve. Greengrocers and street vendors continue to fleece shoppers by overcharging or selling low quality products.
Speaking to The Express Tribune, a middle-aged shopper, Asia Nazeer, complained about spiraling prices of essential commodities like tomato, potato, chilies and seasonal fruits. "Every other day, we hear on the media that the prime minister has taken notice of food inflation, the chief minister has ordered strict action against profiteers and ministers are raiding shops and arresting shopkeepers. The government has completed almost half of its term but no relief is seen yet."
Another customer, Muhammad Abbas, said, "Vendors are selling low-grade products at premium price and nobody is there to stop them. The situation in the city markets has already gone out of the government's control. No shopkeeper or street vendor is selling essential commodities at notified rates," he lamented.
A survey of different Sahulat Bazaars showed that refined sugar was not available in most markets and vendors were selling pulses and grains at the stalls. A limited number of products in small quantities were offered.
The official rate list showed that the poultry price had witnessed a sharp increase during the past week by Rs25 per kg to Rs220 for retail markets. The price of A-grade soft skin potato registered an increase of Rs9 per kg.
Onion also showed an upward price trend and was sold for Rs85-100 despite the official price of Rs75. The price of A-grade tomato was further increased by Rs15 to Rs155-165. However, it was being sold for Rs240 a kg owing to negligence of price control authorities.
Published in The Express Tribune, November 9th, 2020.
COMMENTS
Comments are moderated and generally will be posted if they are on-topic and not abusive.
For more information, please see our Comments FAQ