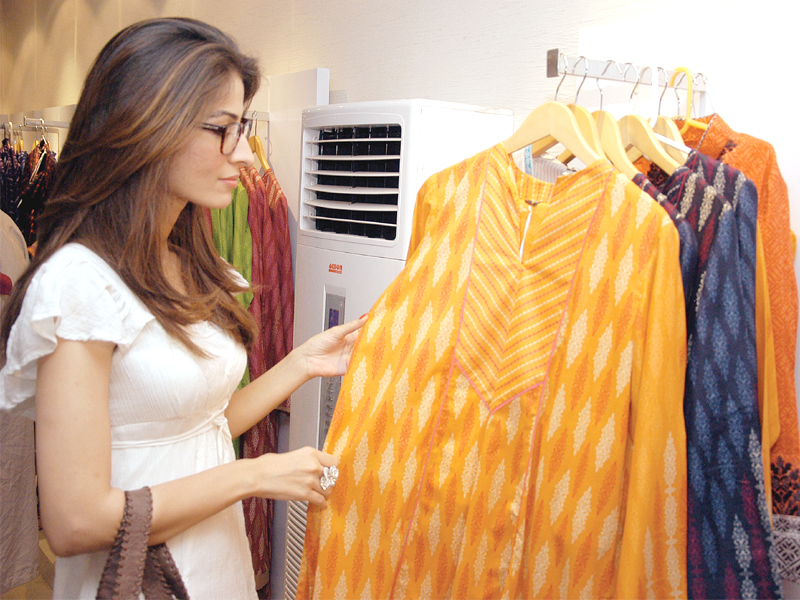 ---
RAWALPINDI: The coronavirus lockdown has put the garment stores in dire straits as they have been unable to complete the last cycle to replace the winter wear with summer clothing.

The shelves of closed garment stores in markets and malls are still cramped with a huge quantity of winter clothing that is usually sold in clearance sale with fewer profit margins.

The lockdown in Punjab was enforced on March 23 when the temperature was lower. This outgoing winter is the time of year when many people resort to season-end shopping by purchasing clothes from clearance sales. However, the closure of markets has hard hit the retailers this time as they had not been able to completely replace the winter clothing with the summer one, like every year.

The shopkeepers start replacing the winter apparel with summer clothing couples of months before the arrival of the summer season as the process is completed gradually, a retailer told The Express Tribune.

Yasir Butt, who runs a garment store, said that the vendors had poised to replace the remaining warm clothing variety with the light one. The last round of the replacement cycle starts from the mid-March and ends in mid-April, then the shelves are crammed with summer wear.

Yasir lamented that the cycle could not complete this year due to the coronavirus. He also warned the customers of a shortage of summer clothing while shopping for Eidul Fitr if the markets were opened before it.

Tahir Bhatti, who deals in kids' garments, said that even if the lockdown was relaxed now, they would not be able to provide customers with summer clothing as their replacement cycle could not be completed. The traders foresee a heavy loss as they would have no market for winter wear now, he regretted.

Ramazan and Eidul Fitr are amongst their busiest seasons for dressmakers. But this year, tailors in the twin cities of Islamabad and Rawalpindi are fearing that they could be left twiddling their thumbs with both cities under a lockdown to combat the novel coronavirus (Covid-19) pandemic.

Even though the government has allowed tailors to reopen their stores, provided they follow the due standard operating procedures (SOPs), most of the markets remain shut, depriving these seamsters of access to raw materials and more critically, of customers.

"Where will people buy the cloth they need to have a dress tailored," asked a dressmaker when asked about the prospects of his business by The Express Tribune in the federal capital. 

Published in The Express Tribune, May 7th, 2020.
COMMENTS
Comments are moderated and generally will be posted if they are on-topic and not abusive.
For more information, please see our Comments FAQ