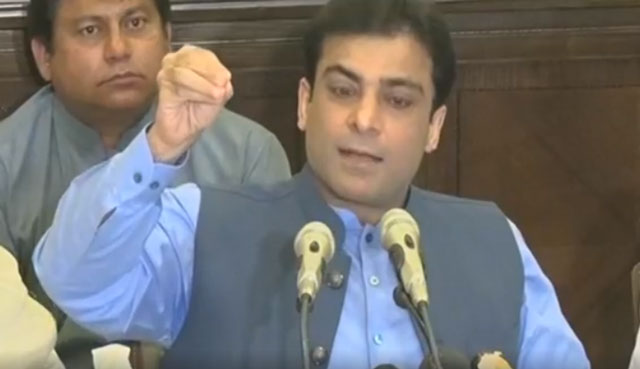 ---
LAHORE: PML-N leader Hamza Shehbaz on Friday moved the Supreme Court seeking bail in the cases of money laundering and possessing assets beyond known sources of income filed against him by the National Accountability Bureau (NAB).

His lawyers, Amjad Pervez and Azam Nazeer Tarrar, filed the bail plea at the apex court's Lahore registry naming the NAB chairman and director-general as respondents.

It has been argued in the petition that Hamza, who is also the leader of the opposition in the Punjab Assembly, has been subjected to "political victimisation" by "anti-democratic" political rivals.

It further read that the charges against the PML-N leader were frivolous and he was arrested on baseless grounds. The actions taken against him by NAB, it added, were illegal and beyond the anti-corruption body's jurisdiction.

The petitioner contended that his "continued incarceration was "merely a device of harassment".

Hamza Shehbaz was arrested by NAB at the Lahore High Court in  June last year after his attorney withdrew his client's bail plea in the Ramzan Sugar Mills and assets beyond means and money laundering cases.

His lawyer withdrew the bail application after the LHC bench refused to entertain his request for ordering NAB to produce a Financial Monitoring Unit document containing details of the money laundering allegations against his client.

In September, an accountability court rejected a plea by NAB for an extension in Hamza's physical remand, sending him to Lahore's Camp Jail on judicial remand.

In February this year, the LHC bench granted post-arrest bail to Hamza in Ramzan Sugar Mills case. However, it denied him bail in the money laundering and assets beyond means cases.

NAB claims to have found evidence of money laundering on a massive scale through which Hamza and his family allegedly accumulated assets in the United Kingdom.

NAB claims to have found that Hamza's declared assets in 2003 were worth less than Rs20 million, which increased by almost 2,000% to over Rs410 million after his father became the chief minister.

Similarly, his younger brother Suleman Shehbaz's personal wealth increased by 8,500 times and he now owns assets worth more than Rs3 billion.

The investigation started when NAB discovered "the huge volume of suspicious cash transactions" in the bank accounts of Shehbaz, Hamza, Suleman and other family members.

The Financial Monitoring Unit of NAB forwarded an application to the bureau's chairman on January 12, 2018 to investigate the transactions.
COMMENTS
Comments are moderated and generally will be posted if they are on-topic and not abusive.
For more information, please see our Comments FAQ