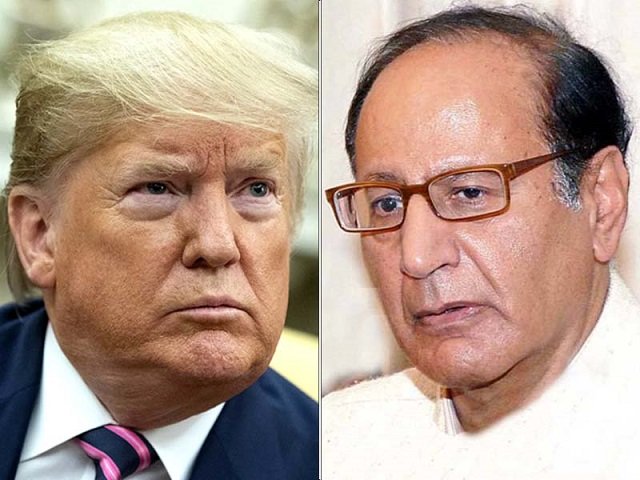 ---
LAHORE: Veteran politician Chaudhry Shujaat Hussain on Wednesday urged US President Donald Trump to push for an autonomous state of Kashmir and play a reconciliatory role between Pakistan and India instead of going for the mediation approach.

"If Bangladesh can come into existence then why not can't Kashmir become an autonomous state?" the 74-year-old chairman of the Pakistan Muslim League-Quaid (PML-Q) said during a meeting with former Azad Kashmir prime minister Sardar Attique.

"The situation in Kashmir is worse than what it was in Bangladesh. The Kashmiris are being subjected to genocide and the UN's resolutions on Kashmir are being flouted," he added.

The PML-Q chairman said the US president should intervene in Kashmir to stop India's human rights violations in the valley.
"If Donald Trump plays a successful role [in the Kashmir dispute], I can say with certainty that he will easily win the next presidential election."

Shujaat said the US president should persuade the UN to consider other options instead of sticking to 72-year-old resolutions, the "ink on which has also erased".

"He [Trump] should persuade the UN to focus on the option of an independent Kashmir," he added.

"By doing this, he will be more popular across the world. He will be popular among Muslims and Kashmiris and sustainable peace will be reached in South Asia."

Shujaat maintained that an independent Kashmir was the only solution to the dispute.

Nice memories but no trade deal for Trump in India

He recalled his meeting with Muammar Gaddafi, saying that the late Libyan ruler had offered to resolve the dispute and financially aid the newly independent state of Kashmir.

"When I returned and consulted others about it, they opposed me and advised me to remain quiet", he added. "However, the time has come to raise our voice for human rights."

The senior politician said Prime Minister Imran Khan had delivered a good speech at the UN. "However, he could have suggested an autonomous Kashmir or presented other options on the matter."

Punjab Assembly Speaker Pervez Elahi, MNA Chaudhry Salik Hussain, Senator Kamil Ali Agha, Mian Imran Masood, Dr Umer Adil, Naseem Tahir, Zulfiqar Ghaman and Amna Ulfat were also present at the meeting.