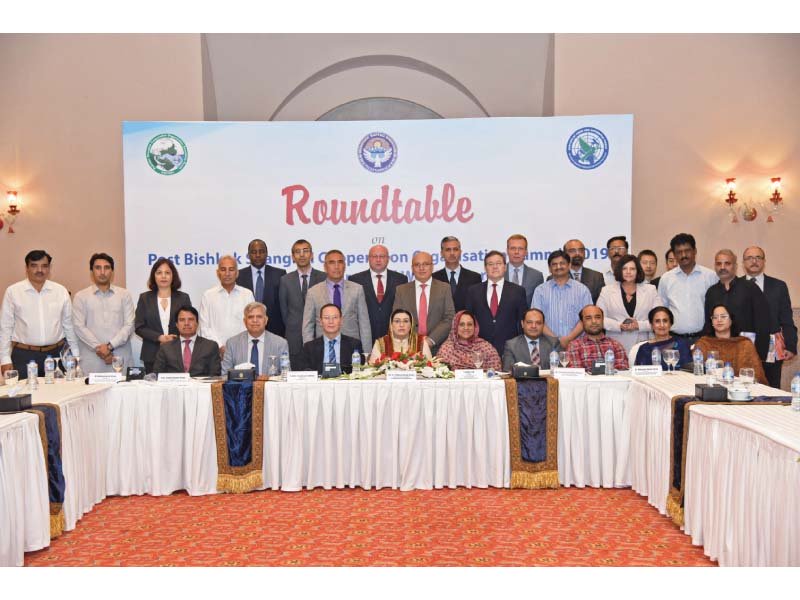 ---
Pakistan is ready to play a constructive role in developing deep-rooted linkages to help deal with all the emerging challenges in the region apart from demonstrating an utmost commitment towards maintaining peace and stability in South Asia.

This was stated by Special Assistant to Prime Minister on Information Dr Firdous Ashiq Awan on Monday while addressing a roundtable on "Post-Bishkek Shanghai Cooperation Organization (SCO) Summit 2019- Lesson Learnt and Way Forward". The roundtable had been organised by the Pakistan-Shanghai Cooperation Organisation Friendship Forum (PSCOFF) and Centre for SCO Studies-Institute of Peace and Diplomatic Studies (IPD) at a local hotel in Islamabad.

Dr Awan argued that Pakistan remains a gateway for peace and prosperity for the entire region covered by SCO.

Moreover, the defacto information minister said that Pakistan accords immense importance to its ties with Central Asian Republics, Russia and China and for building the joint future based on peace and prosperity.

To back this up, Dr Awan pointed towards Pakistan's unique geostrategic position and its cooperation in economic and security domains.

Kyrgyzstan Ambassador Erik Beishembiev said that SCO member states are making tireless efforts to expand cooperation in different areas, such as building an energy corridor, culture, science and technology and combating terrorism.

Member states, he said, are also committed to eradicating illicit trade activities and drug trafficking.

PSCOFF and Centre for SCO Studies Institute of Peace and Diplomatic Studies Founding-President Farhat Asif said that SCO is multifaceted, covering myriads of issues and areas of interest such as environment, security, terrorism, economic collaboration.

She was of the view that Pakistan can and does play a constructive role in promoting harmony amongst member states.

She has also highlighted the aims and objectives of PSCOFF based on nine thematic areas.

US envoy underscores importance of all regional players for stability in South Asia

Moreover, Foreign Affairs Ministry - SCO Division Director General Naveed Safdar said that Prime Minister Imran Khan participating in the 19th SCO summit was quite successful and manifests an optimistic step towards achieving foreign policy goals in SCO region.

National University of Science and Technology (NUST) Sinologist Zameer Ahmed Awan pointed out that Pakistan could play a pivotal role in strengthening as well as benefitting from this regional organisation.

The SCO platform, he argued, must be utilised to ease tensions between the nuclear-tipped but hostile neighbours India and Pakistan by brokering peaceful dialogues and diplomacy.

International Islamic University Islamabad (IIUI) faculty member Dr Muhammad Khan added that the long-established political instability in Afghanistan is, directly and indirectly, affecting the SCO's regional stability.

In this regard, he said that the efforts made by SCO members such as China, Russia and other Central Asian Republics in initiating and mediating talks between the Afghan Taliban and the Afghan government were commendable.

IIUI International Relations Head of Department (HoD) Dr Manzoor Afridi said that SCO must also deal with threats that transcend national borders such as cybersecurity, terrorism, radicalization, extremism and regional integration.

On the conventional military front, he noted that different military exercises have been conducted amongst member states.

This, he said, manifests the organizations' commitment towards military and defence cooperation.

Published in The Express Tribune, June 25th, 2019.
COMMENTS
Comments are moderated and generally will be posted if they are on-topic and not abusive.
For more information, please see our Comments FAQ