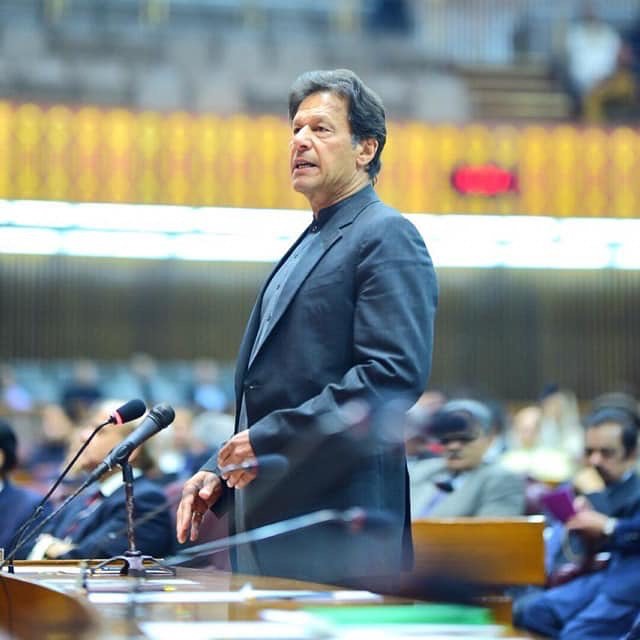 ---
Prime Minister Imran Khan on Monday announced Asia's largest oil and gas reserves may soon be found in Karachi's offshore waters, Express News reported.

In a talk with journalists, the premier said there have been positive indicators in the exploration process and the nation would likely be hearing major news on this front within the next three weeks.

He urged the nation to pray for the success of the exploration efforts and said the development could bring about a massive change in Pakistan's fortunes.

PM Imran further told the journalists that it was possible that India could sponsor a terrorist attack in Pakistan before the start of its general elections next month. "We cannot let our guard down. We have to remain alert," said the premier.

After nine years, offshore drilling begins in Karachi ultra-deep waters

Speaking on other regional matters, Imran confirmed that the Afghan Taliban wanted to hold a meeting with him in Islamabad. "The government of Afghanistan was opposed to the meeting which is why decided against it. The Afghan government wants to settle matters with the Taliban on its own terms."

The prime minister also spoke about US President Donald Trump's recent comments about Pakistan. "We have received a message from the Trump administration but there has been no decision on a meeting yet."

He said the US had been giving Pakistan to fight its war but Islamabad had now changed that policy.

The bulk of the premier's interaction focused on domestic issues, with PM Imran categorically stating that his government has nothing to fear if the country's opposition launches a mass protest campaign.

"We have tried to facilitate the opposition in every way possible but their demands continue to grow. If they want to launch protests to hide their corruption, we will let them. Their campaign will never bear any result because the people of Pakistan do not support the opposition parties."

The prime minister said criticism of the National Accountability Bureau (NAB) was on the rise because the anti-graft body was pursuing cases against those who considered themselves powerful and above Pakistan's laws.

"The PTI-led government has no influence over NAB. In the past, NAB was the reason there was rampant corruption in Pakistan but its functioning has now completely transformed," said Imran.

"Let it be known that there will now be no NROs or deals for people looking to evade justice."

On Nawaz Sharif's predicament, the premier said there was no law that empowers the government to send him abroad for treatment. "He [Nawaz] started from a single factory and built 30 more. However, in his 30-year political career, he failed to establish a single hospital where he would feel comfortable being treated."




COMMENTS (2)
Comments are moderated and generally will be posted if they are on-topic and not abusive.
For more information, please see our Comments FAQ