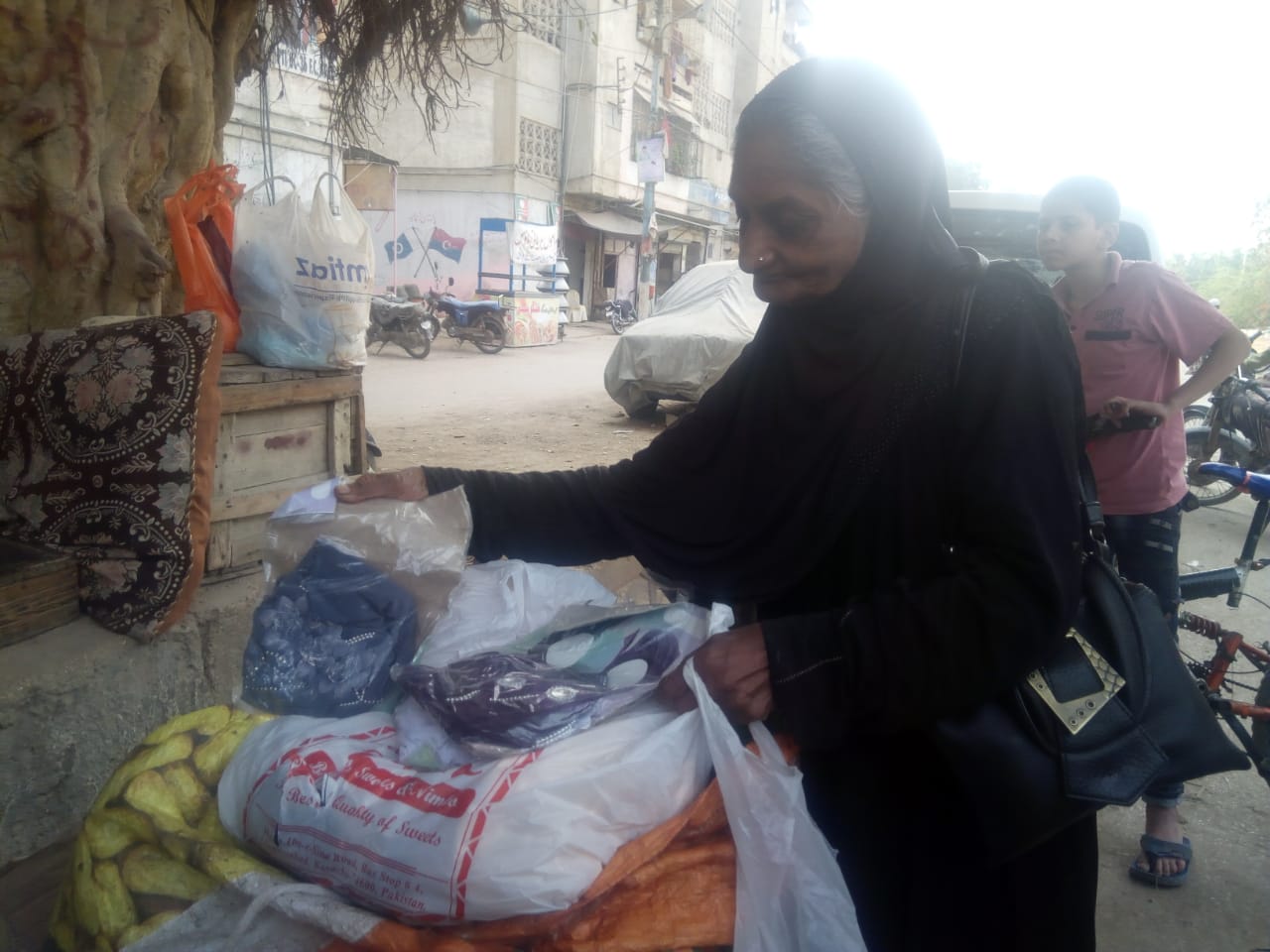 ---
KARACHI: On good days, Idreesa Khatoon makes Rs500 which is enough to cover rent, feed her brother, herself and one other needy person. On bad days, she goes to sleep hungry.

That's a lie. She can hardly sleep on such nights, sick with worry over her brother's health and how she would cover the month's rent.

Khatoon, now 70 years old, is a resident of Liaquatabad's Federal Capital (FC) area, where she shares a rented room with her elder brother, Maqbool. Generally, she works 10-hour shifts every day.

There are no days off. When she is unable to meet the day's target, however, the shift runs well over 12 hours.

Out in the streets, her most prized possession is her stroller, which she uses to transport the garments that she later sells. She has been in the business for as long as she can remember. Well, since her eldest brother passed away, leaving her to take care of herself and her brother.

Master Ghous - the Pied Piper who could not be saved

That was the lowest point in Khatoon's life. She did not even have enough money to afford a proper burial for Mukhtar. She handed over the body to the Edhi Foundation, who buried him at their graveyard.

She could've asked someone for monetary help, but chose not to. Khatoon refuses help she thinks is unnecessary.

"I still have working limbs to make a living. All I need is God's help," she smiles.

A tale of ill fortune
Khatoon's father migrated from India, while her mother hailed from Lahore. Her mother died soon after she was born, following which her father brought the family - Khatoon and her two brothers - from Lahore to Karachi. Her father decided not to remarry so he could look after his children. He worked as an electrician and taught his boys the tricks of the trade.

"My father passed away when I was 16. My eldest brother, Mukhtar, looked after me and Maqbool. I was married off when I was 18, but we separated within a year because he did not work," she reminisces.
She continued to live with her brothers after the separation.

Tragedy after tragedy befell the family as Mukhtar passed away, then Maqbool's wife died, and Khatoon and her brother had to shift to a rented room.




Taking charge
At the time, the brother-sister duo just had Rs3,000 between them. The money wasn't even enough to purchase a pushcart and commodities to sell. So Khatoon went out and bought a children's stroller instead.

They stroller cost Rs1,200. They then bought women's garments and ready-made children's clothes for the remaining amount. The rest, as they say, is history.

Khatoon's daily routine now involves waking up early, making lunch for Maqbool and herself, and then heading out with him to sell their goods on the stroller in Liaqatabad.

The septuagenarian says she only began to understand the profundity and difficulties of life after her brother's death. She mourned him for three days, and then was forced to return to work to feed herself. That, she says, was the only reason she took up her stroller and started selling clothes.




On good days, Khatoon and Maqbool earn between Rs400 and Rs500. Some days though, they are unable to make a single sale. These days are the worst for Khatoon. She worries constantly about where the next meal would come from. The rent for the room alone costs Rs5,000.

And yet, Khatoon refuses to give in. Neither will she allow anyone to help her. "If someone works rather than asking for help, Allah surely helps them," she says. "Begging is a shameful act if one's hands and feet work," she adds.

And despite her own tight financial situation, Khatoon makes it a point to feed one needy person every day, hoping that the blessings of her good deed go to her deceased relatives. She does have one wish for herself though - "One day, I hope God blesses me with the opportunity to visit Mecca and Madina," she says.