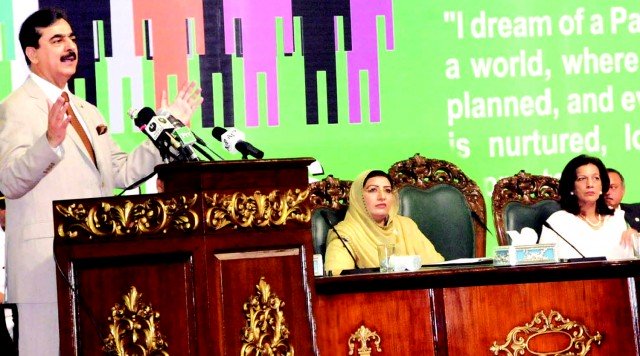 ---
BRUSSELS: The European Union while appreciating Pakistan's determination to combat terrorism and extremism agreed on Friday to a five-year Engagement Plan, outlining specific targets for joint action.

A combined statement issued at the end of the 2nd EU-Pakistan summit and a joint news conference by Prime Minister Yousaf Raza Gilani, President of the European Council Herman Van Rompuy and President of the European Commission Jose Manuel Barroso, stressed capacity-building for law-enforcement and extended full support to the National Counter-Terrorism Authority (NACTA) in becoming a fully operational and effective agency.

The EU reiterated its commitment to support Pakistan's economic and social development under the Development Cooperation Instrument (DCI) for the period 2011-2013 and stated that it was expected to rise by 50 per cent to 75 million euros per annum.

This enhanced engagement will be in line with the EU Action Plan for Pakistan, which sets out priorities such as capacity support to the rule of law sector, support of the Malakand Development Strategy and support to Pakistan's energy sector, the statement said.

Van Rompuy said Pakistan was facing complex challenges and assured that the EU would reinforce its cooperation with Pakistan to help it face all issues. However, he did express concerns about the state of women and minorities in Pakistan.

Prime Minister Gilani said that minorities and women were being given due regard and efforts were on to further ensure that their rights were not violated.

Van Rompuy termed poverty and terrorism as the common enemies of Pakistan and the EU and hoped that the meeting would further develop relations between the two sides.

Regarding granting GSP plus status to Pakistan, President of the European Commission Jose Manuel Barroso said the EU could not grant the status to a single country and had to get the approval of all the members, besides getting the approval of the European Parliament.

He said that, in this regard, he had asked Pakistan to get engaged with the European Parliament and hoped that progress could be made on this issue during the next one to two years.

Earlier, Prime Minister Gilani also met with Nato Secretary-General Anders Fogh Rasmussen at the Nato headquarters in Brussels.

Appearing at a joint news conference with Gilani, the Nato chief said: "Nato stands ready to assist (Pakistan), but it's also very much up to Pakistan to express its wishes as to how we can further assist you in the development of capacity."

Rasmussen and Gilani agreed to broaden bilateral cooperation, which so far has been mainly limited to military-to-military contact aimed at fighting the Taliban along the Pakistan-Afghanistan border.

"We look very much forward to deepening cooperation with…Pakistan, and to developing the political dialogue we have started," Rasmussen said.

Highlighting Pakistan's success in Malakand, Swat and Fata, Prime Minister Gilani said Pakistan had done more than the international forces in Afghanistan.

"This has been done at a considerable cost. There have been more than 30,000 casualties and infrastructure losses amounting to $50 billion. The economic costs are staggering. (But) we will…not relent."

Pakistan, Gilani said, "is determined to win against the evil forces of extremism and terrorism…Defeat in this war is not an option for us".

Rasmussen commended Pakistan for its efforts and sacrifices in the fight against terrorism.

Premier Gilani also addressed the North Atlantic Council, Nato's highest political governing body comprising permanent representatives of all member states.

Published in the Express Tribune, June 5th, 2010.
COMMENTS
Comments are moderated and generally will be posted if they are on-topic and not abusive.
For more information, please see our Comments FAQ