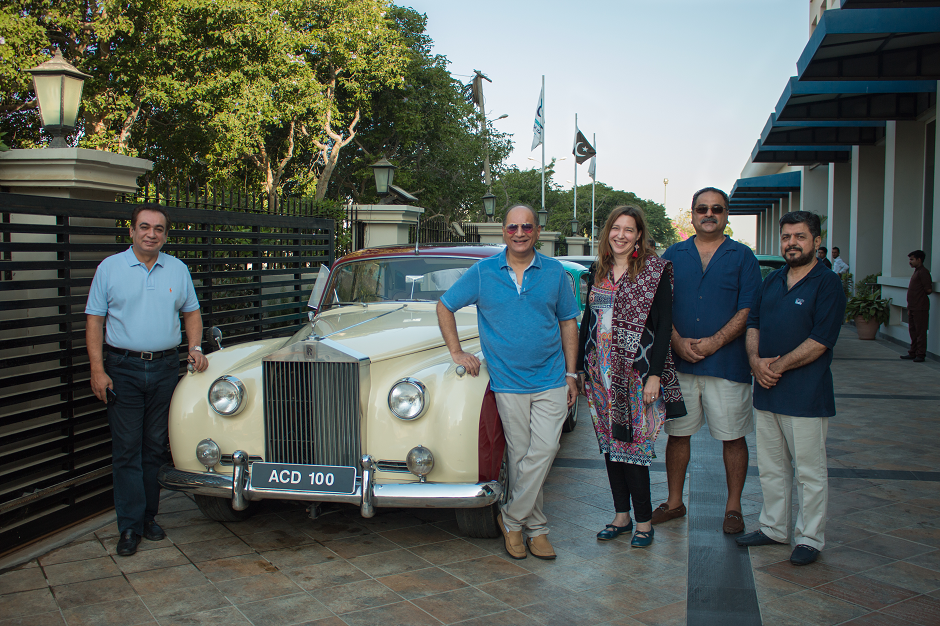 ---
KARACHI:

The 9th Annual Classic Car Rally 2018, commenced on Saturday in Karachi and is scheduled to make its way through Pakistan before reaching its final destination at the Khyber Pass.

Organised by the Classic Car Club Pakistan, the convoy of vintage cars initiated its journey from the Ramada Hotel in DHA.

The itinerary included a visit to Mazar e Quaid before moving through Ghambat, Bahawalpur, Lahore, Islamabad, Peshawar and finally the Khyber Pass/Torkham border which connects Pakistan to eastern Afghanistan.

On the way to the mausoleum, people witnessed an ensemble of 19 colourful vintage vehicles set to be joined by more as the journey progresses.

The organiser/chairman of the rally, Tauqir Sultan Awan described the process of restoration for these cars of antiquity as a 'nostalgic experience'.



Speaking to The Express Tribune, Awan said the purpose of the rally is to create an awareness among people and "to send a softer image of Pakistan."

"Pakistan also has car enthusiasts and we're no different from the rest of the world," he added.

A participant and coordinator of the rally, Nasir Majeed, speaking about car rallies said, "It is the common denominator that brings us together. You come together in solidarity and hope to change the wrong perceptions of people. It is about changing the norms and letting people know that it's quite safe to travel in Pakistan". The Pakistani-Canadian also applauded the local workmanship that allowed him to restore his car and said that he could have never afforded it in Canada.

Syed Haider Ali Kirmani, who was also part of the motorcade, said that the rally has given him a "chance to see the country and spread a positive message about it."

Renault venture in Pakistan to roll out vehicles in 2020

From classic Chevy(s) to Beetles, here are some of the cars that were part of the fleet on Saturday:

Rolls Royce Silver Cloud 1959




With an aluminum, 6.2-liter, 230-hp V-8 engine and a long wheelbase chassis, the red and white Rolls Royce rode at the head of the fleet. The Silver Cloud's V-8 engine replaced the venerable straight-six, which was originally introduced in 1907 and fitted to the Silver Ghost, providing about 30 per cent more horsepower than its ancestor. The 1959 Rolls is owned by the chairman of the car rally.

The 1956 Chevrolet Bel Air





The stylish four-door hardtop Bel Air first came out in January 1956 with a dual-carburettor and a 225-hp V8 engine. Getting to 60 mph from rest in a scant 8.9 seconds, the blue and white Chevy was a sensational achievement for the day, especially at the price: $2,450. The owner of this particular four-door Bel Air, Shahnawaz Khan Mandokhal, has been a part of the rally coordination team since its inception nine years ago.

Volkswagen Camper 1972




The second generation Volkswagen Type 2,  officially known as the Transporter or Microbus and informally, as the Camper, is a forward control panel van originally introduced in 1950 by the German automaker Volkswagen as its second car model. Although the second generation models introduced in 1967 lost their distinctive split front windshield and were slightly larger and considerably heavier than their predecessor. The Camper came with a 1.6 L B4 (petrol) air-cooled engine. Nasir Majeed, the coordinator for the rally and an HR professional with a passion for cars, owns the 1972 model.

Volkswagen Karmann Ghia 1970 Convertible




Named after Germany's Karmann of Osnabruck, who constructed the bodywork, and Italy's Carrozzeria Ghia, who did the styling. This bright red 1970 Convertible sports car is also owned by Awan. It came with a 1586 cc air-cooled engine producing 60-hp, dual circuit brakes, 12-volt electrics, semi-automatic transmission and a sophisticated rear suspension.

The 1967 Chevrolet Caprice




First offered as a sports sedan option in 1965, the Caprice became its own luxury series in 1966, with a host of accessories. Similar to the Impala in four-door hardtop Caprice has its own formal roofline with no supporting pillars. The 1967 Chevrolet hardtop came with 3-speed manual transmission and a 5.0 L 200-hp Turbo Fire V8 engine. This particular car contained all original parts, although the paint-job had been done to imitate an American sheriff's car by its owner, Syed Haider Ali Kirmani.

Volkswagen Beetle 1966




With a 1300 cc H4 50-hp engine and 4-speed semi-automatic transmission, the Beetle is a two-door, rear-engine economy car, intended for five passengers, that was manufactured and marketed by German automaker Volkswagen (VW) from 1938 until 2003. The 1300cc was standard for North America and it carried a "1300" badge on the engine lid. Mala, a German car-enthusiast and the owner, says that the car is reminiscent of the Beetle her mother owned when she was a child. The German previously worked in Pakistan before moving to Jordan. She recently came back to visit and be a part of the rally for the first time.

Pakistan's auto industry lacks competition: CCP

The vintage car rally, hosted by CEO Land Rover Peshawar Asim Durrani, is expected to finish its journey at Khyber Pass on 23rd November, followed by a grand car show at Peshawar Services Club on the 24th.