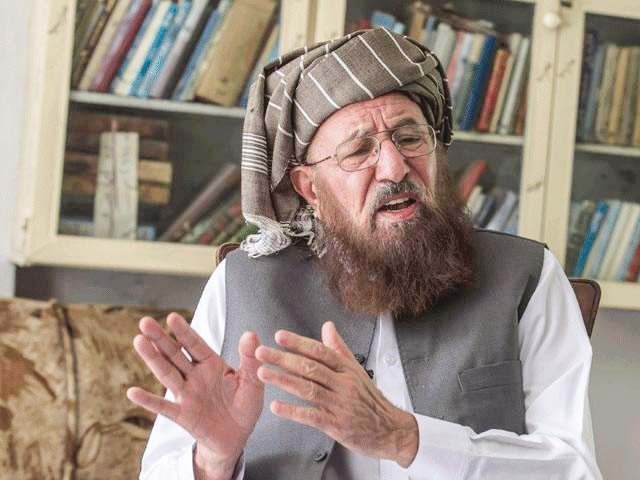 ---
ISLAMABAD/RAWALPINDI: Chief of his eponymous faction of Jamiat Ulema-e-Islam (JUI-S) and prominent religious scholar Maulana Samiul Haq was assassinated in a knife attack at his residence in Rawalpindi on Friday evening. He was 80.

His son Maulana Hamidul Haq told the media that his father was resting at his residence while his driver, who was also his security guard, was not present when the assailant scaled the wall to attack him with knife.

"His driver Haqqani had gone out. On his return, he found Maulana Sahib lying in a pool of blood in his bed," he told news channels.

The assailant stabbed him several times in the chest and the head before fleeing the scene unidentified and unchallenged. The Maulana was rushed to hospital where he was pronounced dead on arrival.

JUI-S spokesperson Maulana Ahmed Shah has confirmed the death of Maulana Samiul Haq in the attack which took place in the jurisdiction of Airport police station.

Afghan govt approaches Samiul Haq to mediate in peace talks with Taliban

Maulana Hamidul Haq revealed that his father was receiving threats from the Afghan government.



The former senator suffered from a heart disease and was inactive for the last three months. After three months of rest, today he had to mediate between protesters and authorities in Islamabad.

Last month, a high-profile delegation from Afghanistan sought help of Maulana Samiul Haq, known as the 'Father of the Taliban', to put an end to the 17-year-old deadly conflict in Afghanistan.

The cleric, however, had told the delegation that it was not easy for him to help resolve a complicated issue like the Afghan conflict, though he had said he wished to see an end to bloodshed in the country.

Maulana Samiul Haq was the founder of the Muttahida Majlis-e-Amal, an alliance of politico-religious parties, and leader of the Difa-e-Pakistan Council. He had been twice elected to the upper house of parliament.

Maulana Samiul Haq was born on December, 18, 1937 in Akora Khattak, an area in the Nowshehra district of Khyber-Pakhtunkhwa. He received his religious education from Darul Uloom Haqqania, the seminary founded by his father.

The assassination comes at a time when politico-religious parties are staging countrywide violent protests against the acquittal of blasphemy accused Aasia Bibi by the Supreme Court of Pakistan.

Maulana Samiul Haq's assassination shocked the entire nation as political leaders and religious scholars have strongly condemned the high-profile killing, demanding that the government bring the culprits to justice.

Prime Minister Imran Khan, who is currently in China on an official visit, has ordered an inquiry into the incident, saying that those responsible would be brought to justice.


Prime Minister Imran Khan has strongly condemned the assassination of Maulana Sami-ul-Haq. Prime Minister Imran Khan is grieved to learn about the death of Maulana Sami-ul-Haq.

The Prime Minister has expressed sympathy and solidarity with his family. #MaulanaSamiulHaq pic.twitter.com/bNzVBAYuwc

— Tehreek-e-Insaf (@InsafPK) November 2, 2018


Chief Justice Mian Saqib Nisar, PML-N leaders Nawaz Sharif and Shehbaz Sharif, Jamaat-e-Islami Ameer Sirajul Haq, JUI-F chief Maulana Fazlur Rehman and others have also denounced the assassination of the scholar.


CM Punjab @UsmanAKBuzdar has expressed deep sorrow and grief over the martyrdom of Maulana Sami-ul-Haq.
CM Punjab expressed sympathy with the bereaved family.

He has directed to investigate the incident and bring the perpetrators to justice. #MaulanaSamiulHaq pic.twitter.com/kKN2mzrLkF

— PTI (@PTIofficial) November 2, 2018


The funeral prayer of the religious scholar will be offered at 2pm in Akora Khattak tomorrow.
COMMENTS (4)
Comments are moderated and generally will be posted if they are on-topic and not abusive.
For more information, please see our Comments FAQ