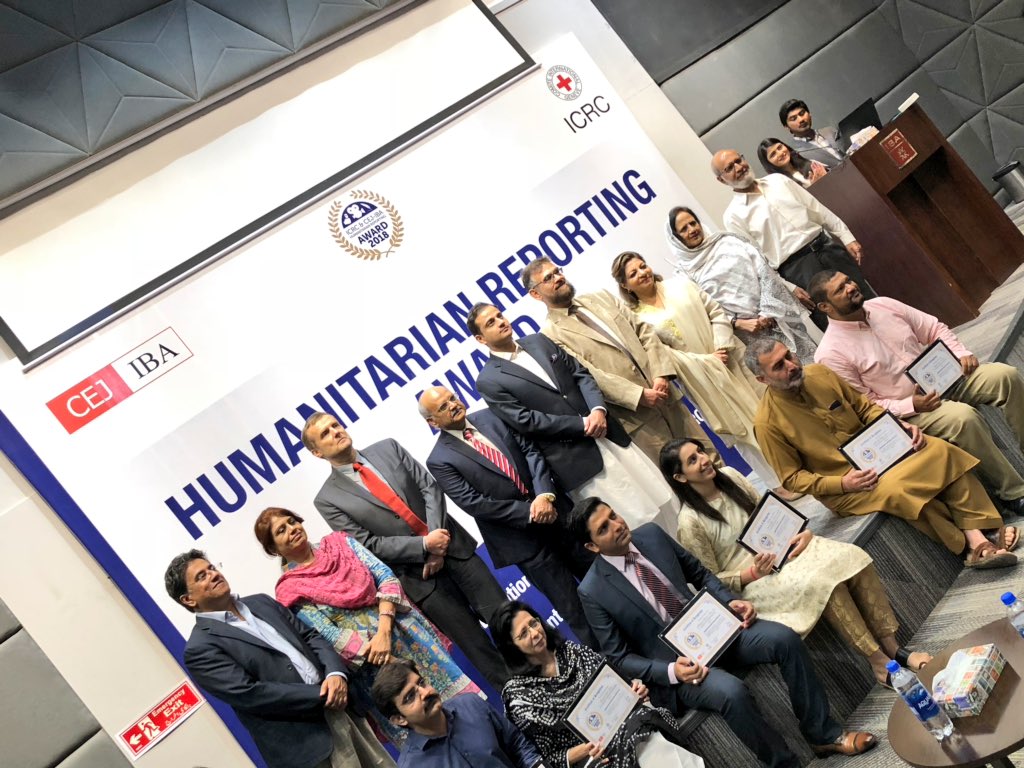 ---
KARACHI: The Centre for Excellence in Journalism (CEJ) at the Institute of Business Administration, in collaboration with the International Committee of the Red Cross, hosted an awards distribution ceremony on Thursday to recognise and decorate the achievements of journalists for their contributions in the field of humanitarian reporting. As many as six journalists were recognised for their ground-breaking stories that focused on highlighting social and humanitarian issues.

The awards were given in three categories - mainstream broadcast [Urdu], mainstream print and online [Urdu] and mainstream print and online [English] for news stories published between November 2017 and September 2018.

Journalist gunned down in Haripur for reporting on drugs

The runner-up in the mainstream broadcast Urdu category was Neo TV's Raja Kamran for his documentary on, 'Pakistani shehriyat se mehroom kue,' [Why Pakistanis are deprived of citizenship'].

Speaking about his story at the ceremony, Kamran explained that it documented the plight of those Bengalis who were deprived of citizenship, despite having migrated to Pakistan twice. Initially, he said, they came to Bangladesh and then to Pakistan and now it is being said that they're not citizens of Pakistan.

The winner in the category was Muhammad Husnain from Hum News' Lahore station. His story was about human smuggling via land and sir routes. Husnain expressed the regret that humanitarian issues were hardly being highlighted by the mainstream media.

Islam Gul Afridi, from Peshawar Today, was the runner up in the mainstream print and online Urdu category for his story on workers from the tribal areas in the mining sector. He said that different untoward incidents happen with these workers in the tribal areas on a weekly basis. "Over 50,000 workers are involved in mining in these areas," he said.

BBC-Urdu's Umer Daraz was the winner for the category for his story on how a village in Sargodha was affected by HIV-Aids.

For mainstream print and online [English], the runner up was Rizwana Naqvi from Dawn newspaper for her story, 'Health: Broken by child birth.' She told the audience that her story was about fistula — a problem that mothers face after giving birth, which is usually brushed aside as a minor issue. "A woman's life becomes miserable due to this condition."

Sabrina Toppa — a freelance journalist — won this category for her story, 'We must protect our girls. Will Pakistan finally vote to end child marriage?'

Toppa said that the main character in her story was 35 years of age, as she chose not to include minors in her reporting. Her reporting, according to Toppa, laid bare the trials and tribulations faced by someone who had been married off as a minor.

Istanbul police search Saudi consul's residence in Khashoggi probe

Speaking at the event, CEJ Director Kamal Siddiqi, , shared details of how the institution joined hands with the ICRC to launch the Humanitarian Reporting Workshops and Awards. "We see this collaboration going a long way since we aim to continue inspiring our media to report on humanitarian issues in a way that is objective and keeps the interests of those affected at heart," he said.

This year, 200 submissions were received for the Humanitarian Reporting Awards 2018 from across Pakistan and the winners were decided by a panel of veteran journalists - Shahzad Sharjeel, columnist for Dawn English daily; Ghazala Fasih, in-charge of Women's Edition and writer at Nawa-i-Waqt Group and Iftikhar Firdous — Investigations Editor for Samaa TV and Digital.

Published in The Express Tribune, October 19th, 2018.
COMMENTS
Comments are moderated and generally will be posted if they are on-topic and not abusive.
For more information, please see our Comments FAQ