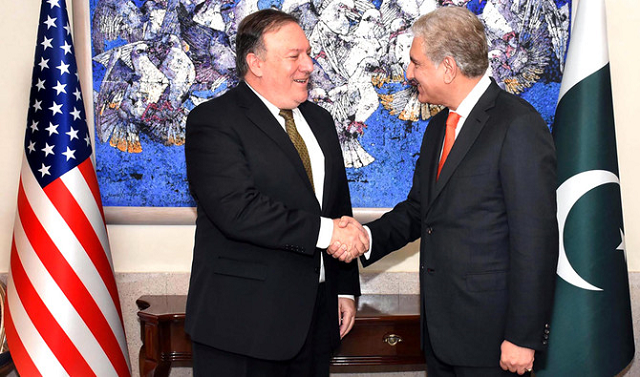 ---
Foreign Minster Shah Mehmood Qureshi has said that his second meeting with the Trump administration's top diplomat will play a key role "in taking forward bilateral relations".

Qureshi, who is the United States to represent Islamabad in the 73rd United Nations General Assembly (UNGA) session, will also meet US Secretary of State Mike Pompeo in Washington.


Foreign Minister said that he will present #Pakistan's stance on different matters at the #UNGA session, expressing confidence that the second meeting with US secretary of state will prove to be important in taking forward bilateral relations with Washington. #UNGA2018 pic.twitter.com/soVzAjxu05

— Government of Pakistan (@GovtofPakistan) September 22, 2018


High-level huddle with Pompeo is one of the top agendas of Qureshi's week-long visit to the US which is aimed at following up on the progress made in the former's visit to Islamabad earlier in this month.

The foreign minister also said that an impasse in Pakistan-US relations had been broken during the first round of talks with the secretary of state in his visit to Islamabad.

During the UNGA session, he will present Pakistan's stance on different matters including Kashmir issue as well as during his other meetings and talks in the US.

Qureshi will also meet his counterparts from different countries and hold talks with the US administration authorities on bilateral relations besides addressing the Pakistani community in Washington.

FM Qureshi reiterates Pakistan's desire for better relations with US

During his high profile September visit, Pompeo, along with Chairman US Joint Chief of Staff General Joseph Dunford and other senior officials, held talks with Qureshi, Prime Minister Imran Khan and army chief General Qamar Javed Bajwa.

The foreign minister said that Pomepo's visit concluded positively as the top US diplomat invited him to visit Washington.

"It was a good meeting with similar results … we met, listened, understood, talked and then decided on a next meeting," he added.

With additional input from Radio Pakistan
COMMENTS (1)
Comments are moderated and generally will be posted if they are on-topic and not abusive.
For more information, please see our Comments FAQ