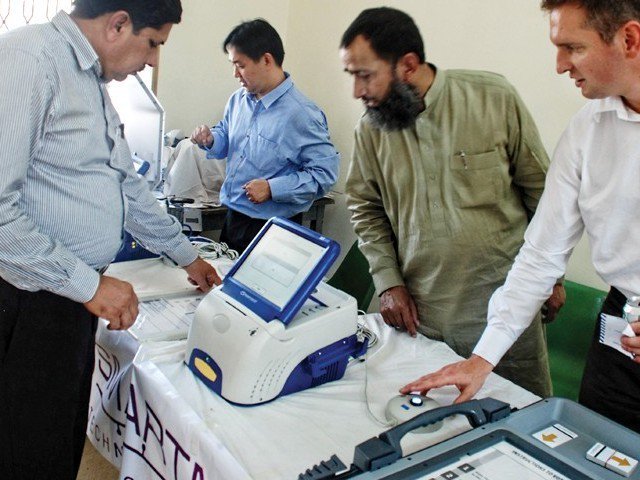 ---
ISLAMABAD: After facing fierce criticism over allowing overseas Pakistanis to vote in the upcoming by-elections without testing the system's viability, the Election Commission of Pakistan (ECP) has contended that it was simply complying with the Supreme Court's orders.

During the Murree multi-party conference on Saturday, leaders of opposition parties expressed reservations over the method for the voting of overseas Pakistanis in the October 14 by-elections in 37 constituencies.

Former interior minister Ahsan Iqbal said the ECP's move was too hasty.

Opposition groups, he said, favoured allowing overseas Pakistanis to vote, but the voting method introduced by the ECP was untested.

Poll result app never crashed: NADRA

Citing a report compiled by a task force, comprising IT experts, he said they had pointed out serious flaws in the system, adding it was vulnerable to hacking and manipulations.

This, he said, should be considered before using the technology.

Pointing out that the alleged malfunction of the android-based result compilation and transmission system had yet to be resolved, he said the ECP was going ahead with another such venture.

In response to the opposition's criticism, the ECP said that it had suggested using the internet-based voting method as a pilot project in addition to not including the votes cast through the system in the final vote tally.

But the Supreme Court had rejected the mock testing of the system and directed the commission to use it for real-time voting.

The ECP had asked the National Database and Registration Authority (Nadra) to register overseas Pakistanis as voters by next month so that they could take part in the upcoming by-polls.

Nadra will enroll all eligible overseas Pakistanis by September 15.

Earlier this month, the Supreme Court had directed the ECP to ensure voting rights to overseas Pakistanis in the upcoming by-polls.

PTI demands probe into RTS 'failure'

The chief justice had directed the ECP to cooperate with Nadra and ensure proper arrangements to make the pilot project a success.

He had observed that results of i-Voting should be included in the final results.

However, i-Voting results will be stored separately and taken out from the final count in case of a conflict.

In June this year, the Supreme Court had deferred the case relating to granting the right to vote to millions of overseas Pakistanis until after the July 25 general elections.
COMMENTS
Comments are moderated and generally will be posted if they are on-topic and not abusive.
For more information, please see our Comments FAQ