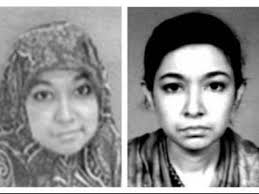 ---
Foreign Minister Shah Mehmood Qureshi has said that the government is trying its best to bring Dr Aafia Siddiqui back to Pakistan.

"Despite the fact that governments must take stock of legalities, we are trying our best to bring her [Dr Siddiqui] back," he was quoted by Express News as saying on Wednesday.

Speaking to the media in Multan, the Pakistan Tehreek-e-Insaf (PTI) leader said that the newly-elected government fully understands the despair of Dr Siddiqui's family in this protracted ordeal.

He, however, said that legal requirements for her release must also be taken into account.

'Dr Aafia subjected to physical, sexual abuse in US detention center'

Dr Aafia Siddiqui, convicted in 2010 on charges of attempted murder and mounting an assault on US military personnel, is serving an 86-year sentence at the Federal Medical Centre, Carswell, Fort Worth in Texas.

In June this year, a confidential report prepared by Pakistan's consul general in Houston of her visit to Aafia had claimed that she was subjected to physical and sexual abuse during her ongoing detention.

Consul General Aisha Farooqui had visited Aafia at the Federal Medical Center in Carswell, Texas. The report recommended diplomatic authorities to take up the case at the highest levels to find a way for her repatriation so that she can serve her remaining sentence in Pakistan, where her modesty and privacy would not be interfered with.

SC rejects petition requesting Aafia Siddiqui's repatriation

However, the Supreme Court later rejected the petition that called for repatriating Dr Siddiqui and directed the petitioner to approach a US court to address her grievances.

"We took up the matter just to know if she is alive or not. It is learnt that she is alive … We cannot do anything in this matter," Chief Justice Mian Saqib Nisar remarked during the hearing. He said there was no way they could order authorities of an independent state on the matter.