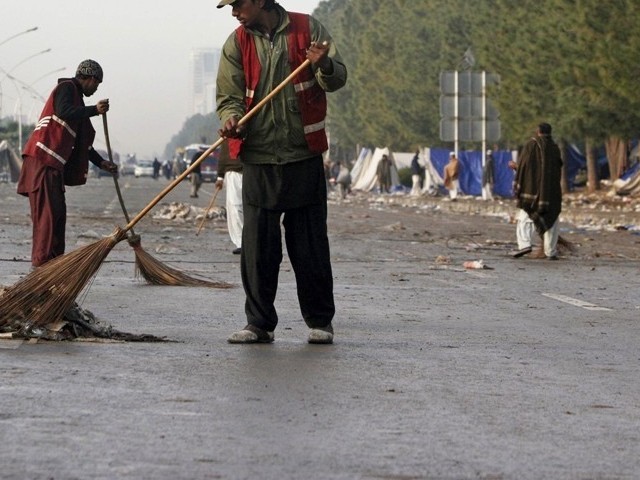 ---
JAHANIAN: Sanitary workers staged a protest outside the Municipal Cooperation chairman office on Saturday against a lack of manpower and absentee employees.

The workers, who are all Christian, claim that other employees remain largely absent which heaps all the responsibility onto their shoulders. Muttahida Christian Council President Aakash Shahzad also joined the workers in their protest.

Never-ending struggle: Sindh's workers march for their rights

"A mere 16 workers cannot clean the whole town," said Supervisor Shamoon Masih.

Nasir Mehtab, another sanitary worker, maintained that the other workers regularly claim their salary at the end of month without doing any of the work. He added that these were the very same workers who had been hired by former MPA Karam Daad.

"There are approximately 40 'ghost' workers who never show up to work," stated Rehmat Charagh, another sanitary worker.

The protesters demanded that the 'ghost' workers either be made to show up to perform their duty or be fired so that replacements can be hired to overcome the shortage of manpower. The protesters added that they have written to the district administration several times over the past five years but the issue had not been solved.

The sanitary workers said that they will boycott their duties until the district administration fulfils their demands.

When contacted, Jahanian Assistant Commissioner Khalid Sanpal said that he had only recently been posted to the tehsil and the matter had been brought to his attention a short while ago.

Rallies, protests call for rights of working class

He revelaed that Khanewal District Commissioner Ashfaq Ahmed had written to him, adding that he will submit his report within three days.

On the other hand, Municipal Cooperation Chairman Saleem Tariq assured protesters that strict action will be taken against the absentee workers, adding that the matter would be solved on an immediate basis.

Published in The Express Tribune, August 19th, 2018.